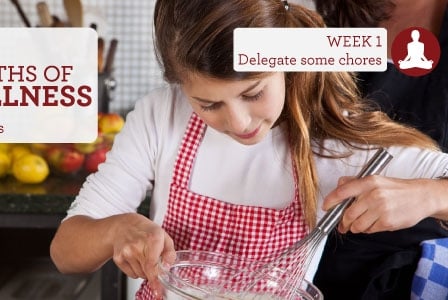 We're taking the load off during the holiday season here at alive. Read about how some of us are shedding holiday stress by shedding some chores.
In the final month of our 12 Months of Wellness, we're looking at how we can shed some stress by shedding some chores. In my own household, gift-giving has evolved into experience-giving so that we no longer face the frantic fracas at the malls. Less time at the shops means more time with family and friends. A win-win for us and our pocketbooks!
Here are some other ideas from alive staff.
Bronwyn Wilson, Marketing and Digital Communications Specialist
Just last week I asked my stepson what his favourite things about the holidays are so that I can be sure to prioritize those traditions, and I don't need to try to do them all! He said his favourite is walking around with my sister and brother-in-law to look at lights in our neighbourhood, so we will be sure to do that again this year.
He also asked that we make some cupcakes for his class together. This definitely simplifies the holidays for me, as I didn't have to do a countdown of gifts to Christmas as I did last year, or two baking dates with him since last year he wanted cupcakes as well as to make cookies.
My family does a pretty good job of dividing and conquering for the holidays, with Christmas Eve at my mom's, Christmas morning at my place, Christmas evening down time at home, and Boxing Day at my great aunt's. It's great because we get to see everyone in our blended families, but we also don't have to host more than once.
Leah Payne, Editor
My family l-o-o-o-ves getting together during the holidays—grandparents, cousins, great aunts, and all the respective family dogs, of course. To make things a bit calmer, no one ever cooks an entire meal alone. Usually the responsibilities get divided up by the host. This year, for example, my mom is hosting Christmas Eve, and I have been assigned to dinner rolls, peas and carrots, and a bottle of wine. Sure thing, mom!
Then, to make things easier, everyone typically pitches in when we all get together anyway: my sister helps serve appies and drinks, my knowledgeable grandma offers her expertise with the turkey, and my husband and I are often assigned to taking all the dogs and younger cousins around the block to burn off some energy (and admire Christmas lights), which, I imagine, must be a pretty hilarious sight!
Amanda Pentland, Graphic Designer
My goal this year was to keep it all simple. This is really hard when you are a giving person. I love to give (not much interested in receiving); I just love to make people feel special. I am doing my best to make gifts from the heart for my close friends and family. With that said I admit I buy a few small gifts for family and loved ones. It feels hard not to. Either a frame for the picture I'm giving to someone, or the ingredients to make something.
There seem to be inevitable costs. It appears to be a constant competition around Christmastime where we lose the meaning of Christmas. So my goal this year is to not feel overwhelmed by the small purchases I may make as long as I am buying from the heart and giving from the heart.
Because I like giving, it means focusing on buying gifts that have meaning: a handmade ornament, homemade liqueurs or baked goods, pictures of loved ones framed, offering a night of baby-sitting to friends with kids. There are endless creative ways we can give to the people we love without making mindless purchases. Sometimes these take more time, so for me this Christmas is about making time for people I love and reminding them with gifts or acts of kindness how important they are to me.
If you've discovered a way to rethink—and rejuvenate—your holiday experience, we'd love to hear about it. Just drop us a line via blog posts or Facebook comments, or by using the Twitter hashtag #2013alive.