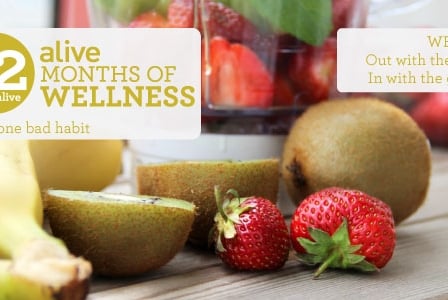 We're wrapping up week 2 of November's 12 Months of Wellness journey and getting ready for week 3: looking to support from others to help us break bad habits.
Week 2 of November's 12 Months of Wellness challenge is coming to a close. I shared my story about nail-biting, alive staff weighed in on their habit-breaking tips and tricks, and hopefully some of you put the tips to use in your own 12 Months of Wellness journeys. Now, we're gearing up for week 3, in which we adopt another habit-breaking technique: utilizing the support of loved ones, support groups, or counselling.
Think about it: you wouldn't train for a marathon solo, choosing your own training schedule, guessing at what equipment is best, and showing up on race day all by yourself. Running groups, specialized running shoe stores, and your own cheering squad made up of family and friends are all invaluable networks to support us. Likewise, there's no need to struggle with our habits alone.
To prep for next week, here are some ideas to get started.
Make a list of the people in your life whom you're close to, and how they might be able to support you on your journey. It's more than likely that once approached, they'd be thrilled that you reached out.
Does your habit require more professional help? There are support groups and hotlines for many specialized habits, from smoking to gambling, to alcoholism. Do on online search to find resources near you.
Consider a counsellor or psychotherapist. Your health care practitioner may be able to recommend someone, or try searching for a counsellor through the Canadian Counselling and Psychotherapy Association.
Join us!
How is your habit-breaking going?  Let us know on Facebook or Twitter, using the hashtag #2013alive. And don't forget to download our November goal sheet.