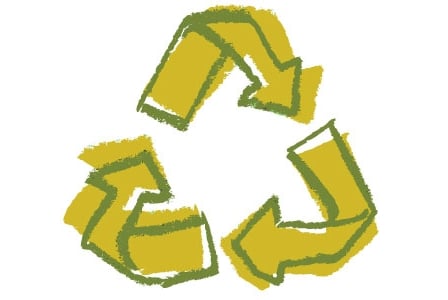 Waste Reduction Week runs from October 21 to 27. Discover creative ways to reduce waste, including shopping smarter and composting food and yard waste.
How's your recycling karma? Amusing TV commercials make light of the possible perils of not recycling—getting dumped by a date or inciting your in-laws' ire—but they carry an important message. We've only got one Earth, so let's all preserve it.
Too much waste!
The average Canadian produces 1,031 kg of waste annually, according to the latest data from Statistics Canada (published in 2008). This adds up to about 26 million tonnes of waste being sent to landfills or incinerators each year.
Enter Waste Reduction Week, where recycling programs across the country launch an educational campaign to help reduce garbage sent to landfills. Held annually during the third week of October, this year's dates are October 21 to 27. During this time, Canadians are encouraged to adopt more eco-conscious choices.
Reduce
Making a new product requires energy and materials. Raw materials are first extracted and processed—then the product is assembled and shipped for sale. Consequently, reducing is the best way to save natural resources, the environment, and money.
Smart shopping
Buy products with minimal packaging. The City of Toronto suggests writing to manufacturers to tell them you consider their packaging wasteful, and mailing back the packaging in question.
Avoid disposable items, such as razors. You may initially spend more on a durable, good quality item, but you'll eventually see cost savings. Consider purchasing an extended service warranty.
When it comes to larger ticket items, search for independent reports to help you purchase good quality. US-based Consumer Reports (consumerreports.org) ranks everything from blenders to tools. MoneySense magazine (moneysense.ca) also offers product rankings.
In the kitchen
A little time and creativity in the kitchen can save packaging—and money. Need to bring something sweet to a potluck? Whip out Dad's recipe for berry scones, bake them from scratch, and pack them in reusable containers, rather than picking something up from the grocery store.
Further cut down on packaged supermarket purchases by turning a sunny kitchen window or balcony corner into a herb factory. Throw seedlings in some soil and they practically grow themselves! Call your local garden centre to find out which plants ideally suit your area's climate.
Compost food and yard waste. Not only can you shave up to an estimated 50 percent off household waste, but you can also produce a nutrient-rich conditioner for lawn and garden.
Many municipalities participate in composting programs, so ask your city hall what resources they offer. The City of Vancouver estimates that if every resident of a house or duplex recycled food scraps for a year, 2,800 trucks of waste would be diverted from landfills. Metro Vancouverites are now preparing for a ban on the disposal of all food scraps and yard trimmings, which will come into effect by 2015.
Reuse
It's worth repeating that "one person's trash is another person's treasure," as it has never been easier to sell or give away goods that may have outlived their purpose in your household.
Around the house
Borrow or share items that are used infrequently. How many teddy bear cake tins or Hawaiian-themed party decorations does one family need? Make a call, send an email, or post your needs on Facebook—you'll be surprised at what's hiding in people's cabinets.
Before throwing something away, ask yourself if it can be repaired. Regularly maintain items such as clothing, tires, and appliances so you won't have to replace them as often.
Even if you can't use something any more, maybe someone else can. Host a garage sale with your neighbours. Advertise it for free online and in local community papers.
Donate old clothes, gently used toys, fabric scraps, books, working electronics, sporting goods, and household items to nonprofit groups, community centres, schools, and places of worship that will find them a good home.
On the road
If you habitually grab a coffee on the way to work, use a travel mug. Many cafes will offer you a discount, meaning one less cup to recycle and a small savings in your pocket. Opt for a reusable water bottle to avoid buying water in unnecessary plastic packaging.
Take your own cutlery to work and store it in your desk or bag. This way, when you order lunch to go, you won't need disposable cutlery.
Buy used. Online classified websites, such as Craigslist and Kijiji, offer items such as used office furniture and kitchenware. Often, you can find items at a fraction of their original price.
Get familiar with your local thrift stores. A shiny new $50 slow cooker might seem appealing, but picking up a used one for $7 reduces consumption and puts your money toward a worthy cause. 
Recycle
Responsible disposal is as important as reducing consumption and reusing products. Plastics alone account for 10 percent of all household waste and yet, according to the Canadian Plastics Industry Association, about 80 percent of plastic is recyclable.
Check with your local municipality to see what materials can be recycled in your area. In the meantime, here are a few other programs to try:
Habitat for Humanity ReStores (habitat.org) accept old doors, windows, cabinets, fixtures, and fittings. Your donation may even qualify for a tax receipt.
Recycle your old clunker and receive a tax receipt from Car Heaven (carheaven.ca), or search for members of the Automotive Recyclers of Canada (autorecyclers.ca) near you.
If your local recycling depot doesn't accept electronics, donate them to groups such as Computers for Schools (ic.gc.ca), reBOOT Canada (rebootcanada.ca), or Little Geeks Foundation (littlegeeks.org).
This year, Recycle My Cell, our national cell phone recycling program, has partnered with Waste Reduction Week for the Recycle My Cell Challenge. Students of all ages can participate by enrolling their school, and possibly win prizes. From October 21 to November 22, 2013, the goal is to gather as many old wireless devices and accessories as possible for responsible recycling. Visit recyclemycell.ca for more information.
As for the rest of us, Waste Reduction Week is a call to action to make positive changes in our consumption habits. Join the 2013 challenge and get your recycling karma moving in a positive direction.3R resources across Canada
Waste Reduction Week wrwcanada.com
Recycling Council of British Columbia rcbc.ca
Recycling Council of Alberta recycle.ab.ca
Saskatchewan Waste Reduction Council saskwastereduction.ca
Green Action Centre (Manitoba) greenactioncentre.ca
Recycling Council of Ontario rco.on.ca
Action RE-buts (Quebec) actionrebuts.org
Recycle NB (New Brunswick) recyclenb.com
Atlantic Coastal Action Program (Nova Scotia) acapcb.ns.ca
Island Waste Management Corporation (PEI) iwmc.pe.ca
Multi Materials Stewardship Board (Newfoundland and Labrador) mmsb.nl.ca
Ecology North (Northwest Territories) ecologynorth.ca
Government of Nunavut env.gov.nu.ca
Raven Recycling Society (Yukon) ravenrecycling.org