Want to stay cozy and happy this winter (instead of shivering through the cold months)? Try embracing hygge.
With winter upon us, it can be tempting to count down the days until the blustery months are once again a distant memory. However, wintertime offers an opportunity to embrace the Danish concept of hygge, characterized by a state of coziness, connection, and comfort.
What's hygge anyway?
The Danish word hygge (pronounced "hoo-gah") lacks an English equivalent, but can be roughly translated as "coziness." Conjuring images of snuggling around a warm fire or sharing a hearty meal with friends, the best explanation Helen Russell, author of The Year of Living Danishly: Uncovering the Secrets of the World's Happiest Country (Icon Books, 2015), has seen is "a complete absence of anything annoying or emotionally overwhelming; taking pleasure from the presence of gentle, soothing things."
When the Londoner relocated to Denmark three years ago, she discovered that, when it comes to hygge, "absolutely everyone's at it, from my postwoman/man to the royal family."
With hygge being such an embedded part of Danish culture, perhaps it's no surprise that, despite winters with only six hours of daylight and temperatures dipping below -30 C (-22 F), the Danes are ranked as some of the happiest people in the world. Canadians can learn something from our fellow northerners about integrating hygge and embracing—rather than simply coping with—the long winter months.
What's in a word?
Hygge comes from a Norwegian word for "wellness."
The term is integrated into Danish dialogue as much as possible, and can be used as a noun (enjoy hygge in a steaming mug of tea), verb (you can hygge by snuggling up near the fire), or adjective (a house can be complimented as being hyggelig, pronounced "hoo-gah-lee").
After a cozy night with friends, the Danes thank one another for a hyggelig time.
---
8 ways to hygge this winter
1. Lighten up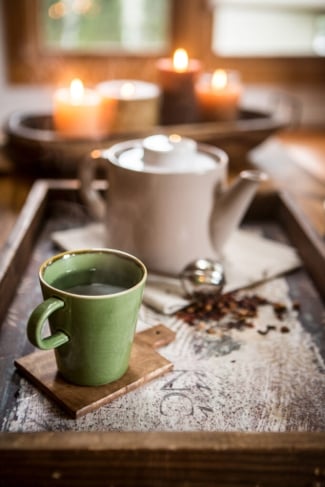 Candlelight is a key component to bring about hygge, and the Danes burn more candles per head than anywhere else in the world. Russel notes that \"hygge is so crucial to living Danishly that, on the motorway, I once saw a camper van driving along with lit candles in the windows.\"
Make a habit of lighting a candle with your morning cup of tea or evening meal to start or end your day with some peaceful ambiance.
2. Create a winter haven

When cold temperatures and shorter days mean more time spent indoors, making our home a winter haven becomes even more important. It comes as no surprise that the Danes take pride in creating a comforting space, and Russell has found that most Danish homes are "monuments to hygge."
To get cozy at home, incorporate extra pillows and blankets in fabrics such as wool or organic cotton, cover bare floors with soft rugs, and layer window treatments to keep out chilly drafts.
3. Celebrate simplicity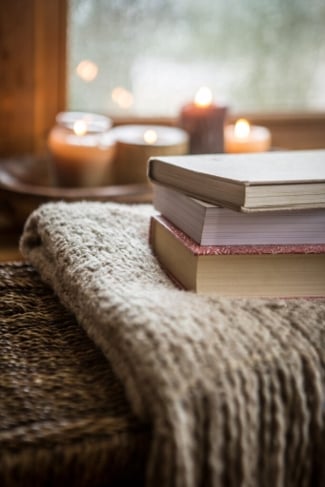 Russell stresses that "hygge is about experiences, not stuff, so it's a happy time out from the rat race of consumerism."
Find joy in simple pleasures, such as reading a good book, listening to your favourite album, or watching the snow come down outside the window while snuggling up under a cozy quilt.
4. Enjoy the outdoors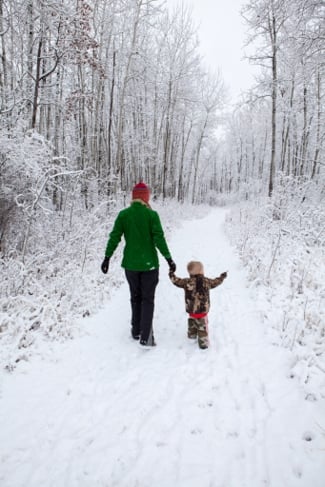 Being outside is good for our physical and mental health—a phenomenon that certainly doesn't disappear during the colder months. In fact, spending time outdoors during the winter may be particularly important in protecting us from seasonal affective disorder.
To take hygge outside, grab some friends, and try out some adventurous winter activities. Feeling less adventurous? Bundling up and heading out for a walk in nature, soaking up the crisp winter air and muffled calm of a snow-covered landscape, can be incredibly rejuvenating. Follow any of the above with a restorative warm drink, and you'll be basking in hygge bliss!
5. Nourish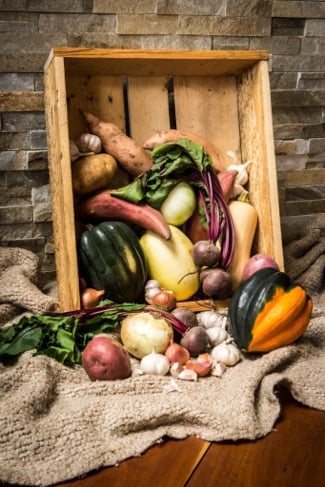 According to Russell, "there's not much yo-yo dieting in Denmark," and food is viewed as something to be savoured and shared.
Pair a fresh fish recipe with seasonal produce like winter squash, beets, or Brussels sprouts for a meal that nourishes the body, is good for the earth, and pleases the palate.
6. Connect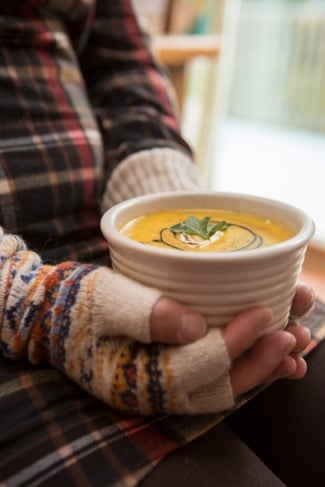 When it's blustery outside, we may be less inclined to make social plans. However, Russell stresses that winter provides the perfect opportunity to "pull together at home and get hygge."
To channel Danish-style hosting, try not to worry about your house being perfectly spotless or your menu overly glamorous (a simple pot of soup is the perfect cold-weather antidote). These details, which are truly unimportant in the grand scheme of things, interfere with the true meaning of hygge and get in the way of spontaneous gatherings. To take the stress out of hosting even further, make your brunch or dinner potluck-style, inviting your guests to bring a favourite dish to share.
7. Learn to linger

Hygge is not something you can achieve in a rush. Although it might be difficult for busy Canadians to embrace, dabbling in the art of lingering allows us to slow down, live more mindfully, and uncover many hyggelig moments we might otherwise pass by.
If your normal tendency is to jump up after a meal to start cleaning up, try instead to sit for a moment and appreciate the nourishment you provided your body. Lingering around the table with others, savouring a mug of tea or glass of wine, allows space for deeper conversations to unfold.
8. Practise gratitude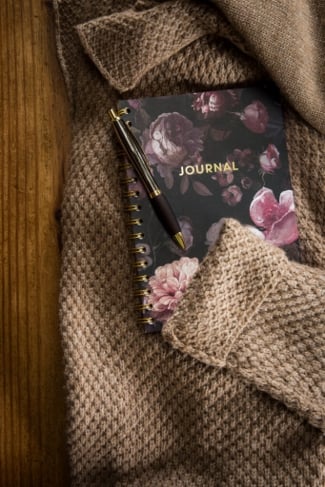 When the temperatures dip, we can find immense gratitude for the many ways we're able to stay warm—a cozy home, a hot meal, or a steaming shower. Not all Canadians have easy access to these luxuries, and the winter months provide an opportunity to count our many blessings.
Write down three things you're thankful for at the end of each day; research suggests that doing so can have a positive impact on our well-being and help us maintain a more positive outlook.
Natural ways to hygge
Nothing says hygge quite like candlelight; however, many candles are made from paraffin, which releases hazardous chemicals and can contribute to health risks such as allergies, asthma, and even cancer. Opt for 100 percent vegetable-based or beeswax candles with cotton wicks.
According to Katherine Thomas, an aromatherapist and perfumer in Calgary, "Essential oils have the ability to affect our mental state, bringing feelings of joy and clarity to confusing, chaotic moments."
She adds that using a diffuser at home is one of the simplest ways to experience essential oils, and provides this recipe for a cozy diffuser blend:
3 drops sweet orange
3 drops cedarwood
1 drop vetiver
1 drop ginger