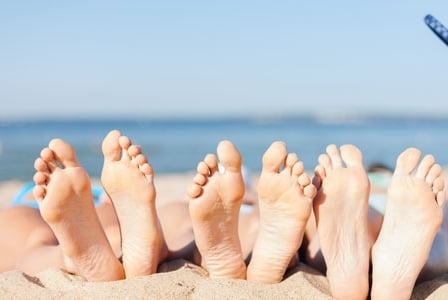 Put your best foot forward this summer! Try out these four simple steps to get your feet ready for sandal weather.
The all-too-short summer season is descending upon us, meaning that many of us are making plans, stirring lemonade, and otherwise preparing to embrace the balmy days and mild evenings that summer has to offer.
Filling up the picnic tables and pulling out the beach towels, however, might cause many of us to omit the finer details of summer-prep—namely, our still winter-weary feet. Luckily, getting our timid tootsies ready to bare all is just a DIY spa day away!
1. Exfoliate
Exfoliating is a great way to slough off dead skin cells, exposing the young, healthy cells and making our feet look happy and healthy. Plus, it removes bacteria and helps the absorption of moisturizers.
One great way to exfoliate is to dry brush, since it'll also help improve the circulation to tired toes. Any brush will do, but specialized foot brushes are best as they have coarse bristles for the thick skin on the soles of our feet.
2. Soak
Beyond being wonderfully relaxing, warm foot soaks with the right essential oils—such as lemongrass, lavender, and peppermint oil—can also help to get rid of undesirable foot fungus. Fill a basin with toasty warm water, add no more than four or five drops of essential oils, and relax!
3. Hydrate
Moisturizers work best when feet are prepped and primed by luxurious spa treatment, since skin is softened and dead cells have been scrubbed away.
Be sure, however, to avoid moisturizing between the toes, since excess moisture can encourage infections.
4. Accessorize
Can toes really be ready for the beach (or backyard) if they're not sporting their own seasonally appropriate colours? Nail polishes are an obvious solution, but many bright and sunny polishes can carry a host of harsh chemicals, including toluene, formaldehyde, and phthalates.
Luckily, there are alternatives out there for the colour-inclined. Many natural health retailers carry a variety of natural polishes in a rainbow of outrageous hues—including pinks, yellows, and (my own personal favourite) oranges!