Lucy ponders her identity as she travels across America to begin a new adventure. Image by Lucy Copp.
---
This week we're debuting the fresh voices of the Go Girl Blogging Program! Stay tuned for new articles from new contributors. Don't forget to tell them what you think in the comments!
---
Pawn shops, casinos, and single-home RV parks. My best friend and I are driving cross-country through Navajo Nation in northeast Arizona, a far reach from our hometown of Providence, Rhode Island.
Today is our seventh day on the road. Our lids are heavy and our heads a bit cloudy as we climb above 7,000 feet and dip down again, continuing this undulation for 8 hours until we reach the Grand Canyon.
Mesas loom on every horizon in deep shades of purple, and, when the road flattens in front of us, a glassy mirage takes form. We are in our own country, but I feel farther from home than times traveling abroad.
Sunset at the Grand Canyon with my best gal, Larissa. Image by Lucy Copp.
Why Cross-Country?
In April I was admitted to the University of Southern California's Master's program in Visual Anthropology. At the end of this 10-day journey and after taking in as much as we can of our country, my best friend and I will arrive in Los Angeles.
The land of freeways and heat waves will be an adjustment, but I am excited for what's ahead: an epic ethnographic adventure in the sprawl of L.A.
Studying and eating tagine in Fes, Morocco. Image by Lucy Copp.
Why Anthropology?
For me, anthropology is about the process: long interviews, participant observation, fieldwork, and filming. Anthropology gives me the tools to interact with people and cultures in a way that allows me to find meaning, and maybe even some partial truth, about the human condition.
Many of us pursuing the field have strong criticisms for the anthropological practice of calling foreign cultures the proverbial "other."
I reject that approach and aim to pursue this discipline by acknowledging my perspective and the inherent "otherness" we all feel at times.
Perhaps even in our own backyard.
An Ethnographic Approach
Zia, Jemez, Apache, and Navajo.
This is something I have no grasp on: life on a Native American reservation. During our "day off" in Santa Fé, my friend and I wander into The Palace of the Governors, where we find a row of Native American artisans sitting on chairs or stools, their backs against the adobe wall.
Squares of fabric are sprawled out before them, displaying mostly silver jewelry embedded with varying shades of turquoise stones.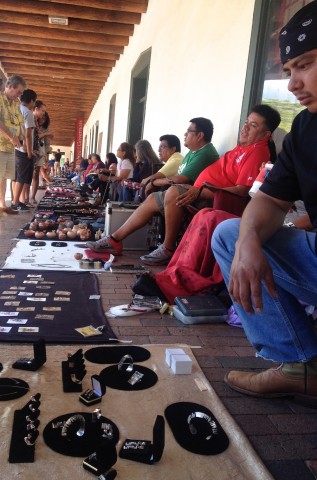 Jewelry in Santa Fe. Image by Lucy Copp.
When I spot a ring, silver with a distorted oval stone the color of a mint Tic Tac, I crouch down and pick it up. I look up at the man to whom this display belongs.
In this instance, I become acutely aware of how little I know of his culture and way of life, and I hesitate to ask him all of the questions knocking around in my head.
So I start small.
Starting Small
"Did you make these pieces yourself?" Barbara did, his wife. He hands me their business card.
"You must be Elmer then?" I ask. He nods and grins. I hesitate with my next question, but I'm not sure why.
"What tribe are you from?"
"Santo Domingo Pueblo."
Why did asking this question cause me such hesitation? What issue did I have in asking something so simple and straightforward?
If I had been abroad, perhaps a politically incorrect or mildly ignorant question would be tolerated, if not comedic even!
But in my own country?
I became insecure about how remiss I could seem or actually was in front of Native Americans. I might show them how little our schools had taught us of their important history. I might make myself the "other."
The next day is the hot drive with mirages and mesas through Navajo Nation.
When Larz and I pull over in Tuba City, the most bustling town we've seen since leaving Santa Fé seven hours ago, we look around like wide-eyed foreigners.
Obviously, we are familiar with the chore of refueling our cars, but the landscape and culture is completely new. No one bats an eye in our direction.
Inside the station store I decide to purchase the Navajo Times. The cashier looks at me and smiles. Though I suspect she is Navajo, I am still tempted to ask.
Navajo Times and black coffee. Image by Lucy Copp.
When Larz and I return to the car, I look at my Rhode Island plates. They seem like a passport from some far-off land of coastlines and lobster.
The Ocean State becomes the place in my mind where my hair coils into salty tresses. Where I've named secret beaches behind bends. Where stashes of cracked seashells hide in my desk drawers.
In this light I begin to think of myself — an aspiring anthropologist — as the "other."
Because, to any keen observer, I am.
---
How do you understand the concept of the "other?" Have you ever felt like one yourself? Share your thoughts in the comments.