Lucy travels through Nevada via a 178-mile relay race. Image by Lucy Copp.
Last November I let my friend sign me up for a 178-mile relay race. It took place this past weekend in Reno, Nevada.
Now, I occasionally run for exercise, but by no means would I consider myself "a runner." To be honest, as the race approached, I dreaded a weekend of high-altitude intermittent running, one leg after another after another.
I suppose the experience could have been just okay. But it wasn't just okay. It was absolutely amazing!
While I am not necessarily inspired to pick up a marathon running schedule, I might truly become a relay-race junkie. Here were some of the best parts of the Reno/Tahoe Odyssey and the act of experiencing place through race.
Team Spirit
The Vintage Turtles. Chafing the Dream. Got the Runs. Off Like a Prom Dress.
Team names and costumes are reason enough to be a part of a race. One of my favorite moments from the weekend came when a large van rolled into one of the exchange points blaring, "IT'S THE FINAL COUNTDOWN." The van came to a stop and six middle-aged women clad in matching pink shirts and prosthetic butts stepped out. I can't remember their team name, but I'm sure it was in witty reference to their plastic tooshies.
The Scenery
I knew nothing of Reno before arriving to run this relay, but I found the city truly charming. Reno's river perfectly accommodates tubers who sip cold beer as they float downstream. Artisanal coffee shops are cropping up. My teammates and I grabbed an early morning cold brew at Hub Coffee Roasters before our race began.
Once the run started, each leg brought us a bit closer to an idyllic dusk setting at the southern part of Lake Tahoe. This was also my first time to Lake Tahoe, and it took my breath away (not as much as my exercise-induced asthma did). While one of my teammates was running, I had time to dip my toes into the lake and splash my face with water, cleaning off a bit of the grit and sweat accumulated after a long day of running.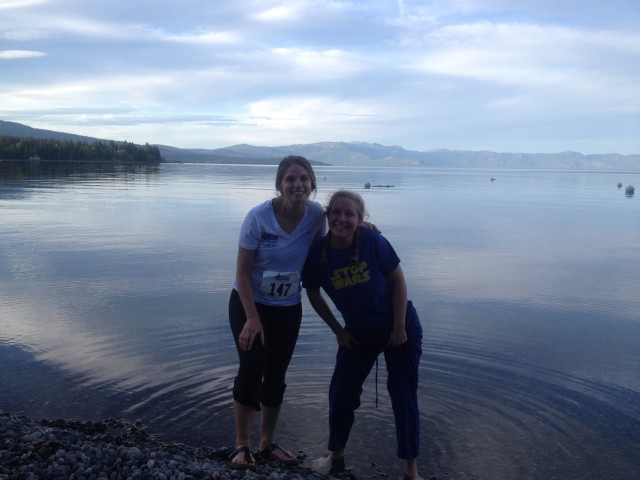 The Bonding
In a relay race like this one, you might know some of your teammates before the race, or they might be complete strangers. Either way, one thing is certain: You will bond, and you will bond fast.
On Friday morning, soon after meeting most of my teammates  for the first time, we piled into a mini-van and set off with sleeping bags, headlamps, and nutrition bars, not to return until Saturday afternoon. After we had all completed our first legs, we pulled into a parking lot somewhere in Lake Tahoe, propped ourselves up against one another, and took a much needed snooze. Around 3 AM we shook each other awake to begin our next leg of the run, descending into Virginia City, Nevada in the dark of night. When we arrived, it was already time for coffee!
The we're-in-this-together mentality that comes with having an end-goal of 178 miles and shared discomfort through soreness is actually quite a good feeling when you realize that whatever is accomplished is not for you, but for the team.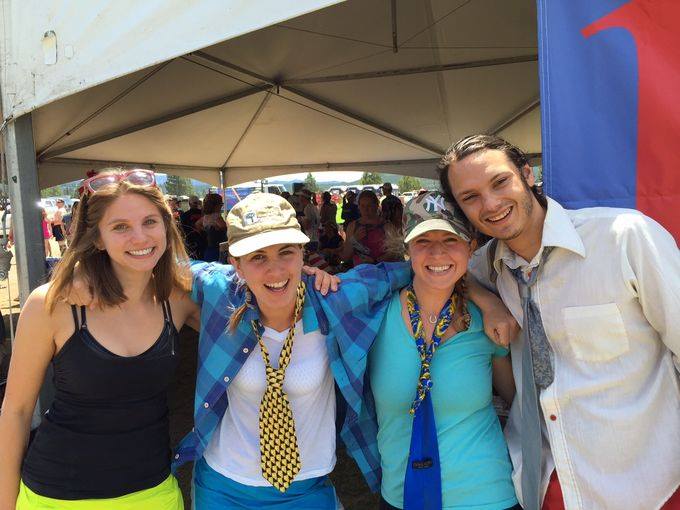 The Accomplishment
One of the best parts of the weekend was joining our last runner in the final few paces of the race. We all crossed the finish line together, receiving medals and t-shirts. (Then I immediately split from the group and found two scoops of chocolate ice cream).
Between 12 of us, we had just run 178 miles from Reno to Lake Tahoe and back again.  I had to push myself hard for the last leg, but when I came around the corner and saw the whole crew waiting for me and cheering, I gritted my teeth to finish and ended with a big smile and a round of high-fives.
To learn more about the relay, visit the race's homepage! Also, check this site for upcoming relays near you!
Have you done a team relay before? Share your experience with us!