Is Smith Rock the Land Before Time? With towers of ancient basalt, lime green moss and a gently flowing river, you might expect a dinosaur to peek around the corner at any moment.
Last week, we hiked through the amazing sights of the Pacific Northwest on an unforgettable trip sponsored by Corning Incorporated, known for their incredible Corning® Gorilla® Glass 4. The glass is found on a number of mobile devices, including the Samsung Galaxy S6, which we used exclusively on our trip.
It's the toughest glass cover yet – and we're testing that toughness as we scale mountains, hike through lava caves and explore other "tough drops" around Oregon.
I took on the adventure with an elite team of travel influencers, including Mariellen Ward of Breathe Dream Go, Teri Johnson of Travelista and JD Andrews of EarthXplorer. We were known as the "Gorilla Glass 4" (we even had jackets).
Our mission was to share the amazing wonders of the Pacific Northwest, and to see if we could capture it all using only a Samsung Galaxy S6 phone. You'll have to see for yourselves if we did the gorgeous region justice.
Day 4: Smith Rock, otherwise known as "The Land Before Time"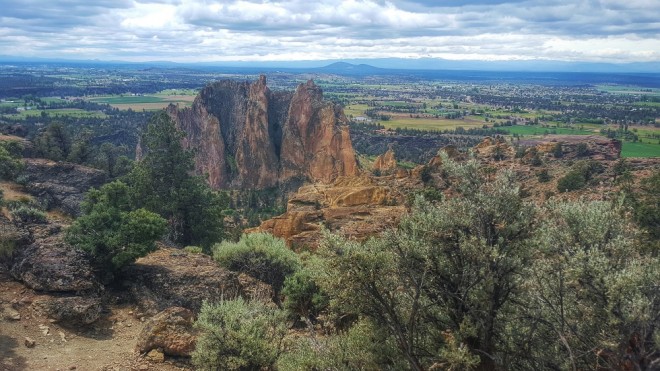 Day 4 of our Gorilla Glass adventures took us to Smith Rock, considered the birthplace of modern American sport climbing. Towers of basalt jut out over an otherwise flat plain, and falcons glide low overhead. On the opposite side of the mountain, a flowing river runs alongside grassy fields. You can even spot nesting eagles and other curious wildlife.
Sometime during your five mile hike up and down the 700 foot rock (not even the highest elevation you can reach there), you may feel like you should be spotting friendly dinosaurs and other cute prehistoric wildlife at any moment. And I wouldn't blame you for it. The rock has a rugged, poetic quality that feels almost unreal. On many occasions we turned around for a 360-degree view, wondering, "is this real life??"
Catching a waterfall near the base of Smith Rock
In addition to its popularity among rock climbers, there are several hiking routes that can take you up and over the top of the rock or around the base. Many couples we came across on the trek brought their dogs and, according to a sign we read, you could even bring your horse with you to some of the areas. Saddle up.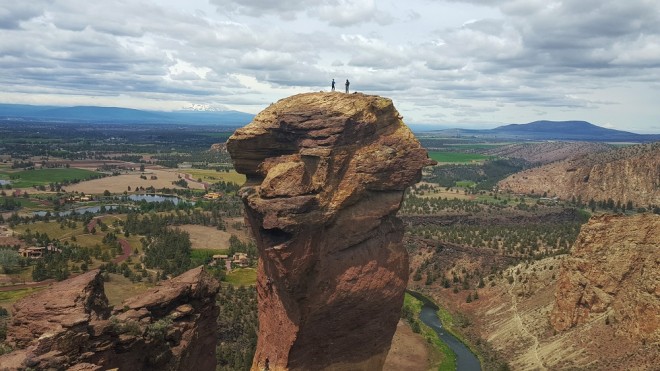 Climbers reach the top of Monkey Face, a popular destination for some of the most skilled athletes. It doesn't look much like a monkey face here, but the features appear on the other side.
A climber rappels down Monkey Face as the clouds begin to roll in to Smith Rock.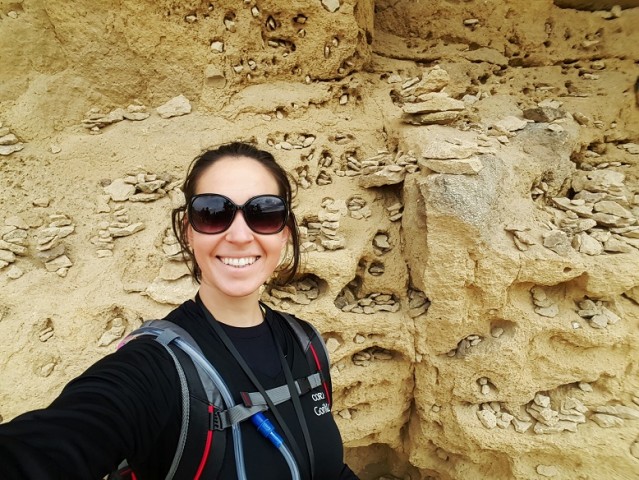 Beth poses with a boulder that features piles of cairns created by the hikers that walked there.
What tomorrow brings
Tomorrow we're hitting Oregon's coast line, exploring the Devil's Churn and the Yaquina Head Lighthouse. It'll be a great change of pace to go from mountains and ocean and we can't wait to continue exploring these beautiful wonders of Oregon. Stay with us!
Want to win a Samsung Galaxy S6?
Our team is psyched to give away six Samsung Galaxy S6 smartphones over the next few weeks (May 18 – May 29)! This, of course, will happen ONLY if you follow along on our adventures here and on Twitter using the hashtag #GorillaGlass4. Click here to begin!
Note: This blog post was sponsored by Corning Incorporated. However, all opinions are our own and we stand by them! Click here for our full disclosure statement.