At Wanderful we're all about the sisterhood, and we love hearing from our community! That's why being a global member (formerly known as a "pro member") is so cool: Wanderful women from all over the world get to access the all the benefits of being Wanderful in awesome ways.
In addition to exclusive, members-only access to resources and content on sheswanderful.com, global members get access to our monthly webinars featuring inspiring women travelers, $20 off their tickets to the Women in Travel Summit, and so much more.
To say thank you to our global members and celebrate what an awesome community of women we have, we feature one global member a month.
Give a big hello to Mary dela Torre!
Mary is a Canadian Millennial blogger and nonfiction writer.  She writes narratives and poems on mindful living, documenting her pursuits in physical/mental wellness, travel, and relationships.  If she's not planning her next trip, you can find her rolling around in a field of flowers outside or sweating through a barre class inside, and there are very few things she won't do for a cold, lovingly-made stracciatella affogato.
Where are you from?
Calgary, Alberta, Canada
Social media handles and blog:
Website: marydelatorre.com
Blog: marydelatorre.com/travel
Instagram: @maryofthetower
Twitter: @maryofthetower
Snapchat: @maryofthetower
What makes you Wanderful?
I never move in a straight line or do anything in order. I've always been that kind of girl, wandering just to check things out, and never doing the same thing for very long. I've collected a variety of different experiences in my life in so many places, and I'm still quite young.
It wasn't until very recently that I discovered international travel as the quintessential avenue with which I can intentionally get lost and find myself in the process. I am wanderful because I'm the embodiment of the idea; I am wanderful because every day I choose my own adventure, moving against the current of my preexisting constructs.
Growing up, my family rarely took vacations. I remember one camping trip where we all piled into a rented van and drove down through the western Rockies to Osoyoos to pick cherries.
There were one or two road trips to Vegas, and once I reached my teens, I started taking shorter trips within the country. My parents claimed it was about money, but looking back, it was a larger testament to their lifestyle and beliefs and how travel simply wasn't seen as a priority.
I realize now that I've been interested in traveling the world for a long time, but I never took that desire seriously. I'd stare at maps for hours in complete fascination of highways and city names. In 2009 I took my first road trip through the U.S., where I got to see everything between North Dakota and Chicago and Chicago back to the Canadian border at Windsor. It took three days, and I probably took 300 pictures of open road, simply because I was in a different place.
I took my first trip to Europe this past October, and it was quick and dirty and exhausting, as seeing seven countries in three weeks would be. I regret nothing except maybe my company…but that's a story for another time hahaha. I'm stoked about being able to travel solo. By nature, I'm already very comfortable being alone.  The idea of filling up my passport completely on my own accord makes me really excited, and it feels really empowering, too.
Tell us about your most impactful travel experience.
My most impactful travel experience hasn't happened yet — I leave on May 16th! This will be my first extensive solo trip, first solo international, and likely one of the longest trips period I'll be taking for a long time.
I'm flying into Amsterdam and visiting the surrounding area for a week, and via AMS I'm flying directly to Tel Aviv to attend a writing workshop with Pink Pangea. From there, I'll fly to Manila, Philippines to meet both sides of a huge extended family I've never met before, in order to go back to my roots and discover a hidden part of myself.
Lastly, the pièce de résistance of my trip: I'll be in Japan for a month, traveling from Okinawa to Tokyo. I hope to make friends along the way, taste some incredible food, and climb Mount Fuji! I still have three more weeks to re-watch the first season of Mind of a Chef before I go.
Which destination have you always wanted to visit?
Japan is a big one, and I feel incredibly grateful to be able to make that happen this year, for longer than a 10-15 day stint. I think I've always just looked at Japanese culture and the way of life like it was another world, and it's purely out of curiosity. I've made a number of friends over the years who speak Japanese fluently and are completely immersed in the culture; one of my ex-boyfriends actually studied it in university, and we had planned to visit together.
The draw for me is completely novel.  Every other place where I've felt like I needed to go because it spoke to a deeper part of me, luckily, has been within my own country. Canada's huge. This past January I had just gone through a breakup and a really rough holiday season, so I went to Toronto, which is a four-hour flight from where I live. It's another Canadian city, but it feels different in every possible way — it's busier, colder, and it offered a vibration high enough for me to feel strong again.
I recently took a three-day trip to Vancouver Island, on the opposite West coast of the country, and the draw was completely different. It was quiet and peaceful, but it made me feel grounded. I can only imagine what other places in the world can offer with respect to that kind of felt experience.
What's your travel mantra?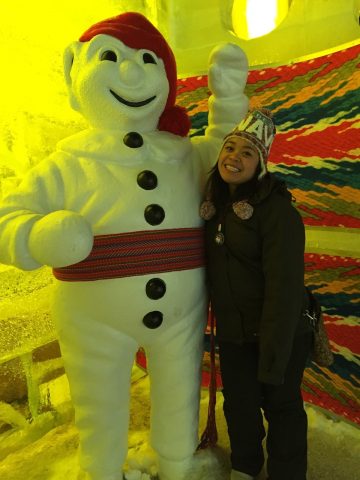 In a word, it's "Go." But what it stems from is my honest belief that there's a place tailor-made for every single one of us in this world, and we need to be here to find out where that is. By "here" I mean present, alive, and willing to exist. If we're unhappy where we are geographically — just as with anything else — we have the option to get up and find the right place for us, even/especially if it's different than what the people around us might need. There's no need to keep forcing ourselves into spaces we don't fit into and suffering through it. We are always empowered to make that choice.
Share your best tip for female travelers.
[mks_pullquote align="right" width="300″ size="24″ bg_color="#ffffff" txt_color="#36adaf"]Don't let the headlines keep you locked in. [/mks_pullquote] Anything can happen anywhere. This goes for the good and the bad. Safety risks are always a 50/50 chance, no matter if you're on the other side of the world or half a block from your own home.
What do you like most about being a global member?
The best part of being a Global Member is being able to connect with so many women who have pioneered their own adventures and stories. As a writer and as a young feminist currently in the thick of my own soul-searching, coming-of-age transition, the association is so inspiring; not only have so many women beaten the odds individually, but Wanderful allows us to come together to celebrate that and to champion one another. This community is truly an honour to be a part of.
Get more involved with Wanderful: Be a global member!
For $7/month or $69/year, you get all the perks of free membership, plus:
Special perks at select events & admission to members-only events in a chapter near you
Access to our monthly members-only webinars featuring inspiring women travelers around the world
$20 off your ticket to the Women in Travel Summit
Opportunity to be a featured member on sheswanderful.com
Exclusive members-only access to resources and content on sheswanderful.com
Member badge for your blog or website
Sign up now
What do you love about the Wanderful community? Share with us in the comments!
Featured image courtesy of Mary dela Torre, off the coast of Miholascica, Island Cres, Croatia.