Leftover powdered sugar: as dirty as I get. Image from Ann Santori.
Books like Elizabeth Gilbert's Eat Pray Love and Kira Salak's Four Corners make female travelers seem like a fairly badass bunch.
Taking off for months at a time, meeting (and sometimes falling in love, or lust, with) strangers on the path, and letting the wind blow them where it may — inevitably into yet more life-changing experiences.
This formula for the archetype of the female traveler — one part can-do attitude and two parts spontaneity mixed with a healthy dose of dirt under the fingernails — is stamped on all of us who identify as having wanderlust.
But we are not all the same type of traveler.
Sometimes, this fact of life is quite difficult to remember when the most famous travelers seem to have sprung from the womb with the comfort and ability to sleep in a Prague hostel that charges a rental fee for clean sheets.
And, most especially, in an effort to validate one's own experiences, it can be hard to compete with these types of travelers, with their trip stories that usually run on themes like nearly being gored by a bull in Pamplona.
But travel, and most especially solo travel, has changed me in the same way it changed Gilbert and Salak.
Despite these confessions of my indisputable high-maintenance traveling style, ultimately I was brave enough to go exploring . . . and that is always something to be proud of.
No, I don't wash clothes while traveling.
There are about a million how-to articles and even specially-made devices designed for washing clothes while away from home.  However, I've never been able to get over my germaphobe's mental barrier to be able to do so.
Even when at home, I won't wear a pair of jeans twice without running it through the washer.  And since all of my clothes (with the notable exception of pajamas and underclothes) need air drying to prevent shrinkage, I can't exactly run to a local laundromat while traveling.
I've never been outside the U.S. . . . unless we're counting Canada.
I do have an active passport, which I obtained before a trip to Ontario for the annual Stratford Shakespeare Festival.
But, despite my obsession with early-2000s Samantha Brown Travel Channel specials, I've never made it to London, to Paris, or to my personal dream destination: the obscure small town of Éze, Monaco.
So, I haven't traveled outside the U.S . . . yet.
The minute I enter a hotel room, I clean it.
I spray everything down with Lysol and wipe surfaces (television controls, phone, etc.) with disinfecting wipes.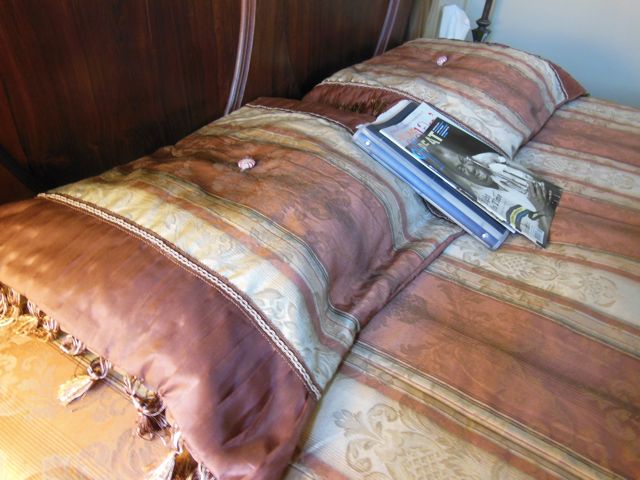 I've seen the 20/20 specials and, though I know that some of those stains, visible only under blacklight, could never be removed though my ministrations, I feel better about laying my face on a pillow that's been thoroughly sprayed and more comfortable padding into the shower in bare feet after its funguses have been suffocated to death.
I throw the bed's coverlet on the floor as well.  That thing is basically a giant toilet seat made of scratchy, 1970s-reject fabric.
I start packing my bags a week before I leave.
Though most of my necessities can't be packed until after I've used them on the morning of (makeup, toiletries, etc.), my outfits are planned, washed, rolled and packed days ahead of time.
And checked off the packing list.
Yes, I have a packing list as well as a detailed itinerary in which each vacation day is meticulously mapped out (and which also included step-by-step walking directions until I finally caved and bought a smartphone last year).
I once made the mistake of trying to 'impromptu pack' the afternoon I was leaving for a weekend trip to Michigan. How much stuff could I possibly need?  I'd remember it all!
Ultimately, I ended up forgetting my:
Hairdryer
NeilMed Sinus Rinse
Glasses
Toothbrush
I accept that Reese Witherspoon and/or Julia Roberts will probably never play a traveling Ann Santori in an adaptation of my bestselling book.
But even though the only kind of outdoor trips that appeal to me are more in the 'glamping' vein than those that would require me to carry a backpack, and even though the longest flight I've taken lasted less than four hours, I suspect that I still have my share of interesting travel stories to tell.
How about you, Go Girls?   Have you found yourself going head-to-head with other travelers in a fight to the death over who would emerge as the top jet-setter?  Any not-so-secret traveler's confessions you'd like to share?