Take a break from modern. Image from Flickr user Rupert Ganzer (Kodak Retina Film advertising).
The 'dog days of summer' are upon us, when everyone rushes to enjoy the sun and heat before September shows up. Whether a city break or beach vacation, camping or at the cabin, everyone wants to enjoy summer before it's back to school and work. If you're still looking for ways to make your vacation stand apart from everyone else's, why not add a few vintage touches to elevate it from the ordinary?
Here are five tips for creating your own vintage vacation:
1) Visit a vintage holiday hotspot.
Why not visit one of the hotspots of the past for a holiday? Many famous old holiday spots, such as Cannes and Havana, are still bustling and busy places with vibrant nightlifes and historic buildings to explore.
Others have become calmer spots to enjoy a lesiurely vacation and revel in some vintage charm.
Whether you prefer mountains or the seaside when you travel, slightly faded (but still vibrant) holiday towns are scattered across Europe and North America, providing perfect spots to enjoy some history and some sun.
Love the water? Visit:
Blackpool in England
Deauville in northern France
Sullivan's Island near Charleston, SC
Mountain-lover? Try:
New York's Lake Placid
Lexington, VA
Any of the many small lakeside towns that dot the Alps in Switzerland and Italy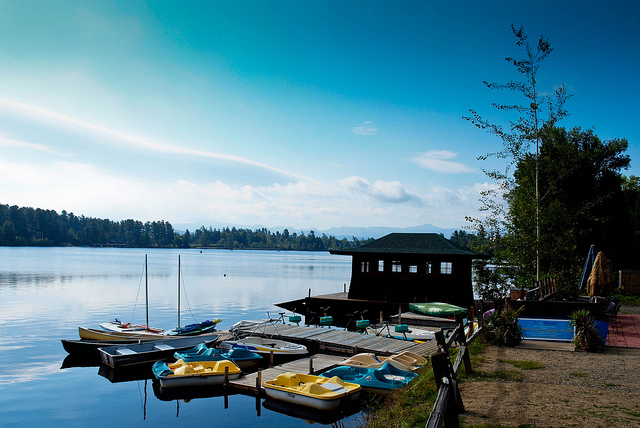 2) Rent a home from the past.
Older accomodations make the perfect 'homes' for travelling vintage girls.
Whether you choose an apartment from the 1920s, a hostel set up in a Victorian home, or an imposing turn-of-the-century hotel, historic accomodations usually have an undeniable charm that can add a special and unusal character to your holiday.
Look for places with:
Wrought-iron balconies
Slate roofs
Attic accommodations
Imagine yourself as character from your favourite historic TV show or book!
Like being closer to nature?
Restored caravans and trailers from the 1960s have recently become popular again. Rent one, and take it to your destination of choice, or stay in one of the many caravan sites making a comeback across North America.
3) Elect vintage transportation.
A great way to add unique flair to your holiday is with vintage travel methods.
Get around your vacation destination by streetcar, splurge on a horse-drawn carriage ride, or rent a tandem bicycle for a day.
Traveling between two places? Recreate a vintage road trip by renting a…
1950s convertible
1940s pickup truck
Motorbike and sidecar
You'll wind up with both wonderful photos and wonderful memories of a very different (and likely slower-paced) experience!
4) Take a vintage trip.
The Golden Age of Travel was famed for making the trip more important than the destination. Experience the 'high life' of days of yore by taking a glamorous Atlantic crossing on one of Cunard's (White Star's) cruise ships, or splurge on a berth on the restored 1930s Orient Express as it travels between Paris and Venice.
For for those who enjoy a simpler experience, travelling by sleeper train anywhere around the world is a great option, as is renting an older houseboat for a week's cruise on a nearby lake or canal.
5) Dress the part.
A vintage vacation wouldn't be vintage without the right clothes!
Add vintage flair to your summer holiday travel wardrobe by mixing in:
Big sunglasses
High-waisted shorts
Capris
Short-sleeved blouses
Cotton circle skirts
Wedge sandals
Oversized hats
Feel like going the extra vintage mile? Raid your grandma's attic (or your local thrift store) for vintage suitcases, wicker purses, and the all-important 'train case' for carrying your accessories and makeup.