Travel lovers unite! There are so many awesome events to attend online in April that you'll feel like you're connecting with the world from the comfort of your own couch.
Lots of these events are only for Wanderful members, so be sure to join the global community so you don't miss out! There are also public events that are open to all, whether you're a traveler or a travel content creator.
Here are our top virtual events for travelers and creators in April 2021.
Wanderful's April Rundown
6 April: Setting Goals for Your Business: Creating Your 90-Day Plan
7 April: Wanderful Women Wednesday: Our Cornerstone Travel Chat!
12 April: Mindfulness Masterclass: Meditative Chakra Cleanse + Balancing Session
18 April: Community Table: Bucket List Travel Destinations Edition
20-24 April: WITS Online
27 April: GTFO! Get to Freedom Online – By Getting Offline
Virtual Events for Travel Lovers
April 7: Wanderful Women Wednesday: Our Cornerstone Travel Chat!
Free for Wanderful members, open to the public
Sisterhood, snacks, and socializing: welcome to Wanderful Women Wednesdays!
Wanderful Women Wednesday is our signature monthly event, connecting our travel loving community together in cities around the world. We'll host themed conversations over our shared love of travel and gain forever friendships in the process.
Each event will be hosted by a different director of one of our 50+ amazing Wanderful chapters who will pick a monthly conversation theme and ask questions so we can share our favorite travel stories.
This event is great for:
Anyone who loves to travel
Travel creators + small business owners
Members of the travel industry
And more!
Free for Wanderful Members!
Are you a member of Wanderful? All members get *free* access to this event and events in Wanderful chapters around the world, plus an exclusive online member community, monthly webinars and learning tools, and so much more. To learn more about being a member, click here. Prices start at only $9/month, so it already pays for itself from our Wanderful Women Wednesday events every month!
Members, you can register to attend this event for free right here!
Our prize this month: We're excited to offer a super fashionable DELSEY PICPUS messenger bag to one lucky winner at this month's Wanderful Women Wednesday! Make sure you're there live when we do the drawing!
This month's hostess + theme: This month, WWW will be hosted by Amanda Walkins, chapter director of Wanderful Edinburgh. We'll be talking all about destination inspiration! How do we choose where to go and how do we research for our trips (movies, books, Instagram, something else)? What inspires your choices and what great travel experiences have you had after following that inspiration?
How to participate: Bring a snack, beverage of your choice, and find a comfortable, relaxing spot. Turn your video on (or leave it off if you feel more comfortable that way). We welcome all Wanderful members for a fun time together!
RSVP right here!
April 12: Mindfulness Masterclass: Meditative Chakra Cleanse + Balancing Session
Open to all Wanderful members
This session with Sophia will focus on providing healing, cleansing and balancing energy to your seven chakras through a guided meditation and thoughtful discussion. Sophia will provide written prompts and tips after the meditation session to help you rebalance and recenter your mindset with life's priorities.
About your facilitator: Sophia Hyder Hock is the Founder and CEO of Papilia, a company committed to improving diversity, equity, and inclusion (DEI) practices for destinations, travel organizations, and content creators. She integrates human-centered design methodologies to empower her clients to be sustainable thinkers and travelers through a greater understanding of diverse perspectives, mindful leadership principles, and communication styles.
As an international yoga instructor and yoga life coach, Sophia incorporates wellness ideologies into all her projects as a holistic way to inspire people to be their best self through life's many challenges. Her love for travel started at the age of 10 when she moved from California to Sri Lanka. Since then, Sophia has been to 35+ countries and plans to inspire her toddler to be a citizen of the world through mindful travel and learning about his Bengali-American heritage. Learn about Sophia and her mindfulness services, follow her journey on Instagram, and learn about her 14-day virtual self-care retreat.
What she can offer: Sophia's ultimate goal is to motivate you to thrive in anything you do through mindful intention and awareness. On a personal level, Sophia can help you find your inner calm; a space to make decisions that help you feel empowered. On a professional level, Sophia can provide guidance on how to develop meaningful partnerships and how to integrate diverse and inclusive content into your writing style. Sophia will also use a diverse and inclusive lens to review and offer feedback on written content in special review sessions.
Book private coaching sessions with Sophia Hyder Hock tailored for your specific needs. Mention Wanderful/WITS when you book your session to receive $25 off each session.
RSVP right here!
April 18: Community Table: Bucket List Travel Destinations Edition
Wanderful members only!
If you love gathering around a table with other travel-loving friends for a good meal, you're going to love Community Table!
This event is all about sharing our stories and making connections with all of the other women "around the table" (even a virtual table!), while enjoying some yummy food.
Your Host: Each Community Table will be facilitated by one of our amazing Wanderful Chapter directors where we'll have some guided as well as open travel talk. This month, our theme is Bucket List Travel Destinations. Thanks to Brittany Quaglieri, chapter director of Wanderful Cape Cod, for hosting this Community Table!
This Month's Recipe: Instead of having one set recipe this month, we encourage you all to share a recipe from your own bucket list destination!
With so much in the world vying for time on our calendars, this event is a great way to prioritize self-care. Bring your own meal or a snack to enjoy around the table and find a comfortable, relaxing spot. We welcome all Wanderful members for a fun time together!
You can RSVP right here!
Virtual Events For Travel Content Creators
April 6: Setting Goals for Your Business: Creating Your 90-Day Plan
For Wanderful Creator Members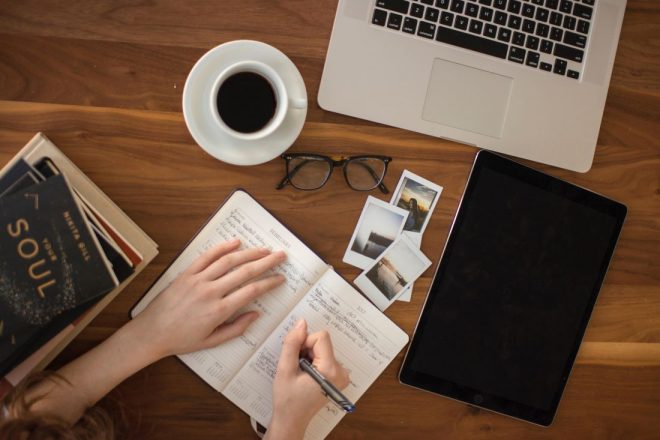 This past year did go the way so many of us anticipated. For many, we have been totally derailed, especially in the travel blogging industry!
This session will give you a chance to rethink your goals and break them down into smaller, actionable and achievable steps. Together, we will get you focused and ready to move forward in the coming months.
Join Lottie Reeves for this event to learn:
How to set bigger picture goals that are aligned with you and your brand
How to break these down so they aren't overwhelming
How to use your goals to set weekly tasks that keep you on track and moving towards your bigger goal
About Your Host: As a partner of Female Travel Bloggers Lottie is experienced in setting up, growing and establishing a blog. She is passionate about bloggers seeing themselves both as business owners and as women in the tech industry and not 'just' as a blogger. Lottie connects and supports bloggers through the highly engaged FTB Facebook community.
As a trained teacher, Lottie is a natural coach and having lived all around the world in apartments, a caravan and now a narrowboat, she has a solid understanding of running a location independent business as well as living the LI/Digital Nomad lifestyle.
Her skills lie in simplifying overwhelm and creating game plans that will move your blog forward while focusing on the tasks you enjoy and are excited to get done!
Lottie's motto is to "live life to the beat of your own drum." She believes in empowering women to tune into their intuition and follow it down the path they're being nudged to explore – even if that takes them off the traditional path!
In her downtime Lottie is an advocate for mental health awareness and support, runs a social enterprise, and is a new mum who writes about parenting and mental health. Learn more on her website.
What She Can Offer: Lottie offers a unique mix of life and business coaching – be warned, sharing an idea with her will lead to her encouraging you to take action rather than talk about it!
She can offer support with:
Blog and Business Strategy (affiliate income, content creation and optimisation, time management, marketing, designing and implementing a strategy, goal setting)
Website Development
Facebook Group Management
Location Independent Lifestyle
Discovering Your Drumbeat!
RSVP right here!
April 20-24: WITS Online!
Free tickets option and open to the public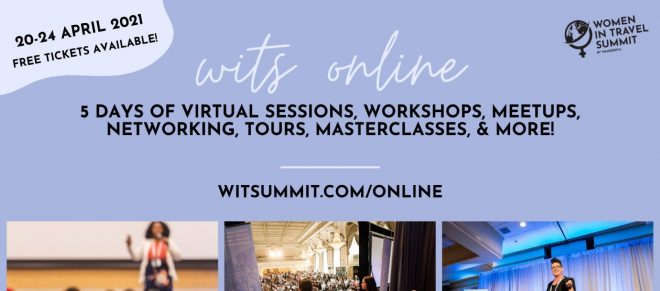 WITS brings together hundreds of content creators, innovators, and thought leaders from across the globe to learn, collaborate, and change the travel industry worldwide.
Our third virtual WITS will be a nearly week-long series of events and will include:
Educational sessions
Virtual Tours
1-on-1 meetings between creators and brands
Masterclasses and workshops
Mentorship opportunities
And more!
Register right here!
April 27: GTFO! Get to Freedom Online – By Getting Offline
Exclusively for Wanderful Creators
Feeling burnt out on social media lately? You're not alone. Join our Wanderful community for an online workshop led by Amanda McLernon, CEO and Founder of a social media agency, about GTFO-ing!
This event is part talk, part workshop and we will explore the importance of disconnecting from our digital worlds to reconnect with ourselves, our community, and our world IRL.
Amanda will share tested strategies and tactics for setting boundaries with social media as business owners and marketers who use social media to generate revenue.
This event is "video-on encouraged," which means we'd love to have you physically present for the conversation, but you can choose to turn your video and mic off if you're more comfortable.
About the presenter: Amanda McLernon is the CEO and Founder of McLernon & Co., a social media agency and Keep Social Media, a social media community. Recognized as one of the MARsum Top 100 Influencers in Advertising and Marketing, Amanda's work explores the intersections of social media marketing, technology addiction and mental wellness.
Amanda is on a mission to Keep Social Media Social by helping people build real, honest communities online. By teaching individuals, groups, and audiences how to have a healthy relationship with social media, she also helps them live a better life IRL.
In her volunteer time, Amanda speaks nationally with General Assembly, Junior Achievement, American Marketing Association and other entrepreneurial and educational organizations. When she's not working you can find her skiing, exploring or creating art. She loves to live life offline! #KeepSocialMediaSocial
RSVP for this event here!