A secret pleasure. Image courtesy of Beth Santos.
If you're a budget adventurer, you may find yourself with one day in Istanbul, Turkey sooner than you think. The city is a true pearl: highly underrated, culturally fascinating, and remarkably cheap. Plus, you can save yourself as much as $600 US on a plane ticket to Greece by first flying through Araturk, Istanbul's international airport.
In fact, if you fly Turkish Airlines, a stopover in Istanbul could be free.
Here are our tips for what to do, eat, and see with only one day in Istanbul, Turkey (which, for the record, was much too short for our books).
How to get to Istanbul
Istanbul is a city of 14 million people, and the quantity and variety of flights reflects this. If you're flying through, see if you can book your flight through Turkish Airlines to take advantage of the free hotel they offer with any required layover longer than 10 hours. Or, just fly into the city yourself and head to your final destination the next day.
Istanbul's historic center, the Sultanahmet neighborhood, is a quick 30-minute drive from the airport (barring traffic). Don't pay more than 55 Turkish Lira if you take a cab – airport officials can help you find an official cab service to work with. Public transportation is also available, though it requires a couple of transfers.
If you're staying in town for a while, rent a cell phone from the airport for the equivalent of just 5 Euro per day.
What to do
With just one day in Istanbul, don't overdo yourself. Focus on an area and enjoy a small taste of what Turkey has to offer. Having never been to Istanbul before, we opted to stay in the Sultanahmet, the most touristy, historic, and incredibly walkable part of the city. Don't miss:
The Hagia Sophia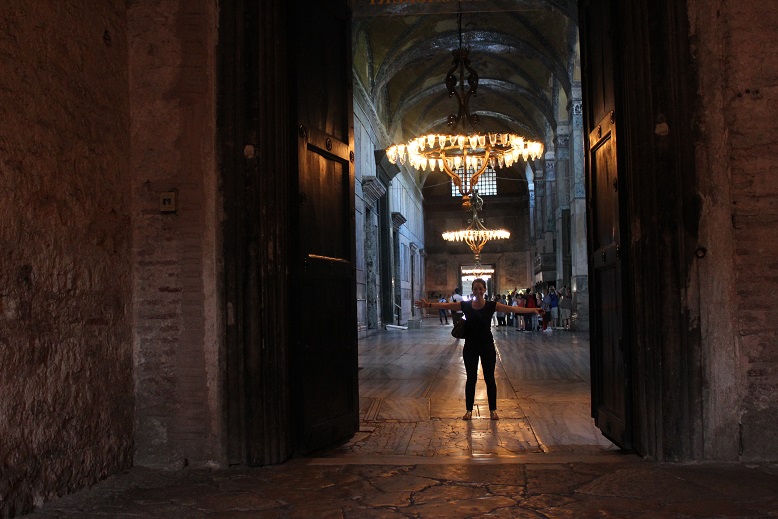 Image courtesy of Beth Santos.
The Hagia Sophia is possibly the most famous and well-kept example of Byzantine architecture in Istanbul. The current structure has experienced multiple iterations, first created as a Greek Orthodox church in 360 AD and reconstructed in 532 AD. In 1453 the building was transformed into a mosque and has served as a museum since 1935.
It's a drop-dead gorgeous facility, and not to be missed.
We recommend arriving early, before ticketing opens, guaranteeing a visit without long queues, and a chance to explore and feel like the remarkable building is all your own.
The Blue Mosque
As this is a real, functioning mosque, pay attention to service times, as visitors can't go inside during services. Besides the Blue Mosque (by far the most famous active mosque in the city), there are a number of other beautiful mosques in the area. Purchase a headscarf at a local shop to use as a souvenir, or just borrow one outside the mosque itself. You'll need to wear it in order to go in.
Possibly one of the most eerie and captivating sounds to a newcomer to the Middle East is the booming voice of the calls to prayer. Hang out near a mosque when it happens, and watch as attendees wash their feet (males and females separately) before beginning their prayer.
Shopping in the Grand Bazaar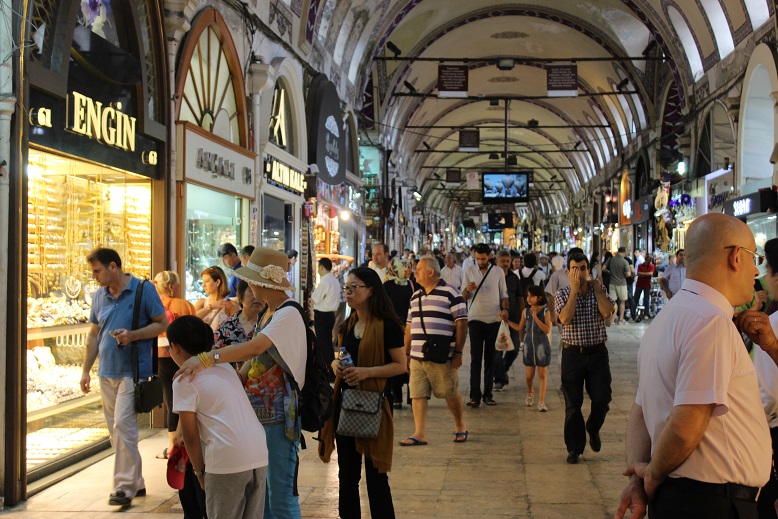 Image courtesy of Beth Santos.
One of the largest and oldest covered bazaars in the world greets you like nothing you've seen before. Get lost in the maze of 3,000 shops, and take a moment to close your eyes and imagine what it might have been like to walk through this bazaar a thousand years ago (but make sure to hang onto your bag when you do it).
When you leave the bazaar, stop by Kerwan Carpet, Kilims & Suzani, an amazing lantern and gift shop that we fell in love with in Istanbul. Tell the owner, Şerif, we said hello.
Hookah at Harab'be Cafe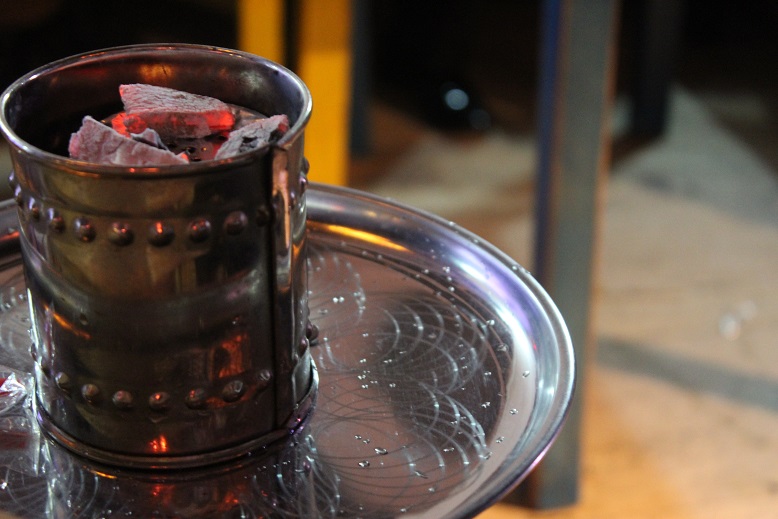 Image courtesy of Beth Santos.
You haven't had hookah until you've done it outside a small alley bar adorned with hanging Turkish lanterns. With the heat that accompanies Istanbul's summer, sitting outside with some apple shisha at midnight, especially after a late-night Ramadan picnic in the park, might be the best feeling in the world.
A Turkish coffee break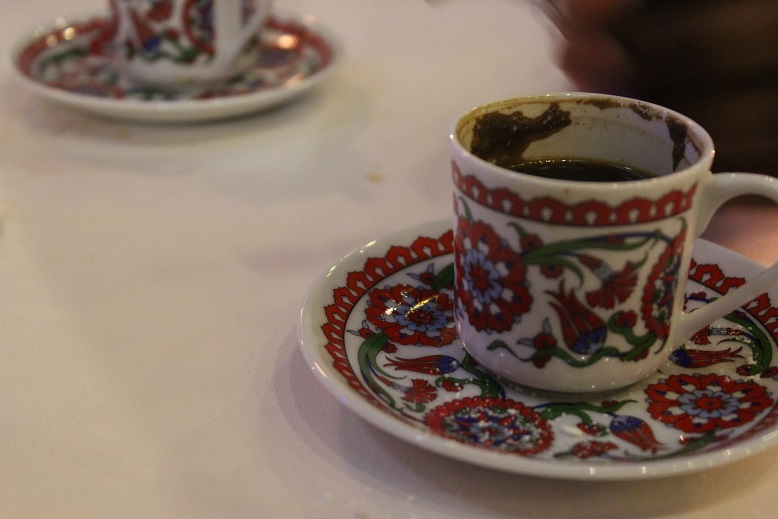 Image courtesy of Beth Santos.
Though not really consumed in the morning, Turkish coffee serves as a delicious digestif after your meal. Don't drink it down – it's served with the grounds still inside. Find a cute little restaurant for some cheap grub outside of the touristy areas, and soak in the slow European lifestyle fused with the regular calls to prayer.
Where to stay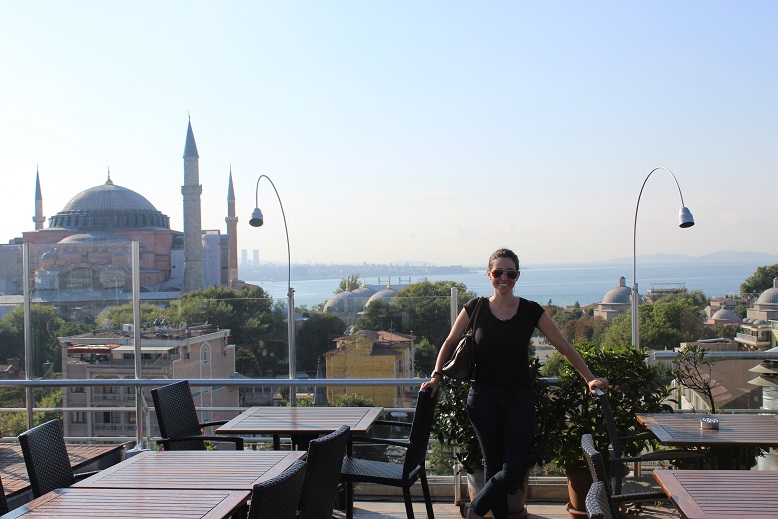 The rooftop of the Adamar Hotel. Told you it was close to everything! Image courtesy of Beth Santos.
Thanks to a generous offer for a free stay, we took a night in the Adamar Hotel, right in the center of the Sultanhamet (read our full disclosure statement). The boutique hotel features bright rooms with Turkish accents just steps from restaurants, bars, and some of our favorite "one day in Istanbul" sights.
Don't miss breakfast in the hotel's panoramic restaurant. They have some of the best fruit you've ever eaten, including bananas with honey + walnuts and cinnamon apples. But if you're really looking for an experience, grab a drink on the rooftop bar where you can see the Hagia Sophia, the Blue Mosque, and the Asia side of Istanbul all in one glimpse.
Don't forget
Your headscarf.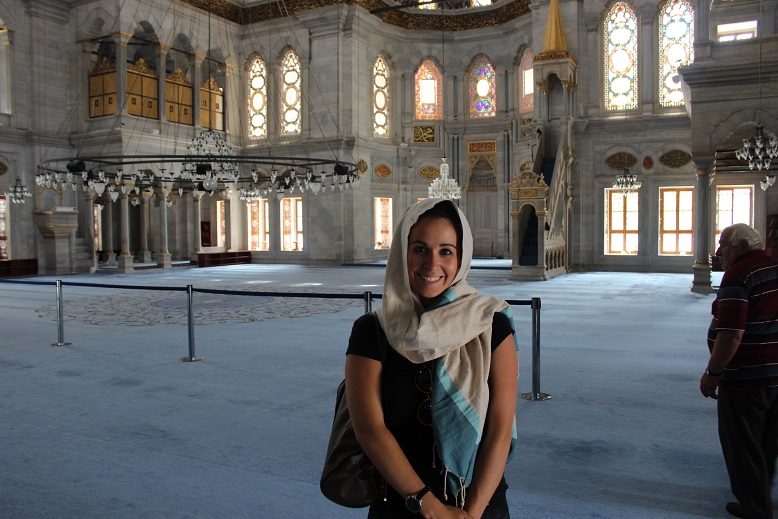 Image courtesy of Beth Santos.
Though you won't need to wear it all the time, buying a Turkish cotton or silk headscarf is a great souvenir that will come in handy when visiting mosques. It's also helps block the hot Turkish sun!
Gender divisions.
When near religious sites, you may notice that men and women are separated in things such as washing stations. Keep your eyes open, and be aware of social cues when necessary.
Our review was unanimous: One day in Istanbul isn't nearly enough. But if you happen to be passing through, don't just stay near the airport. There's a lot you can do in a little time, and you'll be a better traveler for it.
What are some of your top picks in Istanbul? Share with the Go Girl community in the comments section below!