You only need a few simple ingredients to enjoy a DIY spa treatment while traveling. Image by Jill Robinson.
Pampering yourself while you travel shouldn't have to be complicated or expensive. Indulge in these three DIY spa treatments that only require ingredients found in a local market or possibly collecting dust in the communal dining space of your hostel!
Ingredients you'll need: 
— Olive oil
— Sea salt
— Honey
— Yogurt
See, no sweat! Now that you have your ingredients in order, it's DIY spa time.
DIY Spa Recipe #1: Exfoliating Sea Salt Scrub
Edible ingredients for beauty products are the best ingredients. Image by Jill Robinson.
What you'll need:
— Olive oil
— Sea salt (Sugar or coffee grinds can be substituted.)
— A few drops of your favorite essential oils (optional)
Exfoliating scrubs are great for travel-worn feet, but I prefer to use this recipe as an overall body scrub. Plus, it's ridiculously easy to whip up.
Sea salts have natural relaxing effects, get the blood circulating, and help your skin glow after exfoliation, not to mention the essential oils will give you a boost of aromatherapy.
1. Depending on your travel accommodations, find a bowl from the hostel's kitchen, an extra Ziploc bag, or a plastic cup to mix up your ingredients.
2. I eyeball almost all my measurements. Just make sure you use enough olive oil to make a salty paste.
3. Add a few drops of essential oils, like lavender or peppermint (Good thing you packed them in your carry on!), and mix up your scrub. Voila! You are ready for some pampering.
4. Hop in the shower or bath, and apply your scrub to your skin in a circular motion, letting it sit for a few minutes to get the healing benefits of the salt and olive oil.
5. After a few minutes of scrubbing, rinse off with warm water and admire that soft skin of yours!
DIY Spa Recipe #2: Honey & Yogurt Face Mask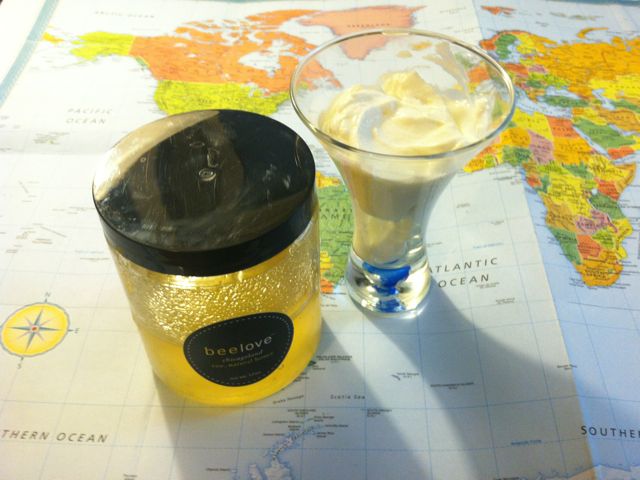 Breakfast anyone? Tastiest face mask EVER. Image by Jill Robinson.
What you'll need:
– Raw honey
– Yogurt
This face mask is a great treatment to celebrate the beginning of your travel adventure after spending hours flying in what I like to call "fake airplane air." It's also a great way to give your skin a boost after sightseeing all day in cold or dry weather.
These ingredients pair wonderfully to make your skin glow. Raw honey is antibacterial, antimicrobial, antifungal, and antiseptic, not to mention hydrating. If the honey is sourced locally, even better!
Yogurt is ideal for sensitive skin. The lactic acid in the yogurt is a natural exfoliant, but be sure to get the full-fat, organic option so you get the moisturizing benefits.
1. To make the mask, mix a 2:1 ratio of yogurt and honey.
2. Apply the mask to your face, and let it set for 10 to 15 minutes.
3. Rinse.
That's it. Go crazy! You can always EAT your mixture if there is extra left over.
DIY Spa Recipe #3: Peppermint Oil Foot Rub
The hardest part about this DIY spa recipe is finding someone to give you a foot massage. Image by Jill Robinson.
What you'll need:
— Olive oil
— Peppermint essential oil
Finding privacy can be the biggest challenge for travelers staying in hostels or shared accommodations. If the recipes above seem a bit unrealistic, don't underestimate the powers of a foot rub to de-stress after a long day of travel.
The peppermint oil is stimulating and anti-fungal, which supports nail care. Its cooling properties can also relieve aches and pains while increasing circulation.
Forgot to pack your essential oils? No worries! The main point of this treatment is that you are going to give your feet some attention with a little massage. (Bonus points if you can persuade someone else to give you a foot rub!)
It's ideal if you are able to give your feet a soak before beginning the peppermint foot oil rub, but if that isn't an option, you can just jump right in to the foot rub.
1. Give your feet a quick cleaning, and get comfortable.
2. Pour a bit of olive oil in your hand, and add a drop of peppermint oil.
3. Rub your palms together to mix your tingling massage oil.
4. Focusing on massaging one foot at a time, giving them each the love they deserve for all that trekking.
Giving ourselves a bit of loving attention doesn't require going into credit card debt or scheduling an afternoon at a hotel resort. With a few ingredients and a couple minutes, you can enjoy a personal spa treatment no matter where your travels take you this year.
How do you pamper yourself while traveling abroad? Share your tips below!