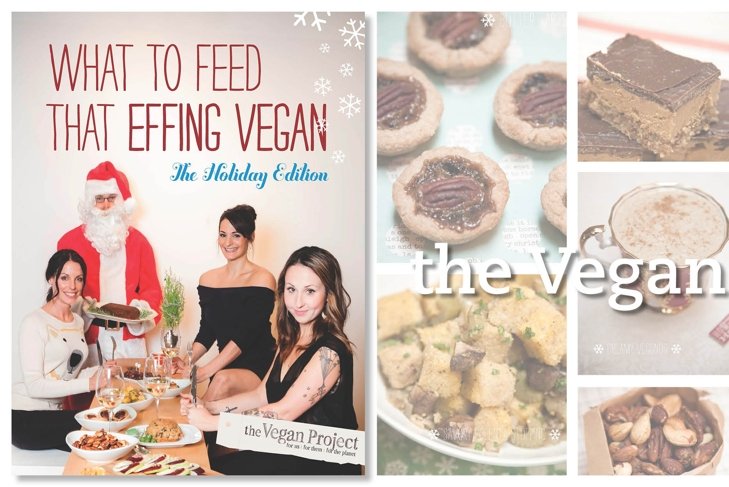 Eggless eggnog? Butter-free butter tarts? \"What to Feed That Effing Vegan: The Holiday Edition\" features holiday classics that everyone can enjoy.
It's the night of a dinner party. You've planned the holiday menu, hand-crafted a centrepiece, and laid out cutlery … but one question remains: what to feed that—insert curse word here—vegan?
The aptly named eBook What to Feed That Effing Vegan: The Holiday Edition has the answers. Whether your holiday plans involve a five-course meal or a laidback evening of board games, the ladies of the Vegan Project have got you covered.  
Their cookbook features more than 20 holiday classics made without animal products, including appetizers, side dishes, desserts, and the dreaded meat-free main course. Each recipe is a quirky update on familiar favourites, from cinnamon rolls to apple pie. You'll also find savoury sides such as Rosemary White Bean Dip with Yam Chips and a quiche that would be divine on Christmas morning.
Enticed? Intrigued? Desperate for recipes that will please vegan, vegetarian, and meat-eating guests at your holiday party? Buy a copy of What to Feed That Effing Vegan: The Holiday Edition to ensure that all your guests can eat, drink, and be merry with equal abandon. The eBook costs $7, but get your copy for just $5 at gumroad.com/l/thateffingvegan_holiday if you enter the code \"aliveholidayspecial\". Plus, we're giving away five free copies; enter before December 30 to up your holiday hosting game!
Connect with the Vegan Project
If you're in the Vancouver area, check out the Vegan Project's launch party on Thursday, December 12 at the Gam Gallery (110 East Hastings Street). The event will be celebrating the book, Christmas, and veganism, with proceeds going toward Senior Animals in Need Today Society (SAINTS).