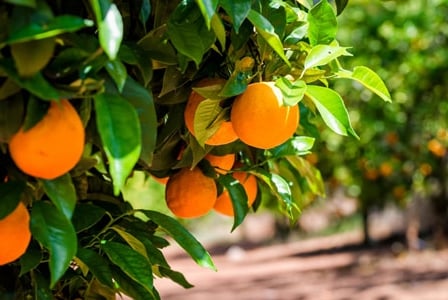 Everyone enjoys a tall glass of organic OJ or lemonade now and then. But, with citrus greening disease affecting the world's citrus crops, our glasses may be left empty.
There's no denying it—tasty, refreshing, and loaded with powerful antioxidants, oranges make excellent summer snacks. Whether they're juiced, blended, or eaten whole, lazy summer days just wouldn't be the same without this bright orange fruit.
Which is why citrus growers all over the world are facing a big, green problem—and it's getting bigger.
A growing problem
This problem, carrying the name citrus greening disease, should be worrying for the many organic lemonade lovers, orange aficionados, and other citrus celebrators among us.
Also known as huanglongbing or yellow dragon disease, it's a bacterial infection that is carried by insects. The disease has spread from its native China and infected citrus crops throughout Brazil, India, Asia, and Africa before sneaking into Floridian crops in 2005.
Some estimates claim that as much as 99 percent of Florida's crops—one of the largest producers of citrus fruit in the world—are now infected, resulting in oddly shaped, oddly coloured, and oddly small fruit. The citrus trees themselves eventually die about three to five years after infection.
It's not easy being green
Currently, there's no way to cure infected trees, and some most common ways to manage the infection include the use of chemical insecticides and quarantine of infected plants. Much to the dismay of organic crop growers and grapefruit gobblers, there aren't any effective organic alternatives—yet.
Citrus fruit fans, unite!
The Organic Center, a nonprofit organization that works with governments and academic institutes to improve our knowledge about organic food and farming, has teamed up with the UNFI Foundation and the University of Florida to find holistic and organic methods to control citrus greening.
The expected cost of the three-year study is pretty steep, which is why the Organic Center is turning to all mandarin munchers, tangerine tasters, and pomelo peelers for support.
If you think the right to a tall glass of organic lemonade is a cause to fight for, then check out their crowdfunding project to learn more and make a donation.