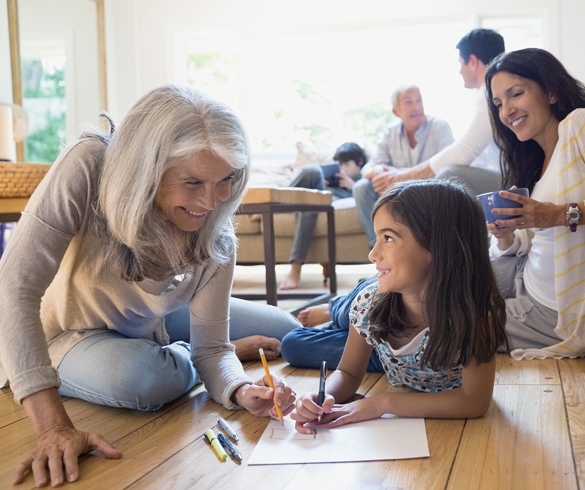 Get Talking

Celebrate Family History Month by making time for important family conversations
October is National Family History Month, and the perfect opportunity for families to gather, share memories and celebrate the lives of past, present and future generations.
You might think you know everything about your family, but there are conversations that can help spark a better understanding of your collective family history, as well as the individuals who helped shape it. There are many reasons to recall family history and preserve memories for generations to come:
Children benefit from knowing family history. According to a study conducted at Emory University, children who understand their family history show higher levels of emotional well-being. Family stories can help kids create a sense of self and understanding of their place in the world.
Family history can preserve family traditions. If you've ever wondered where your grandma got that famous apple pie recipe or who started the annual game of charades on Christmas, listening to family members' stories can help you understand the origin of your family's favorite traditions, ensuring they will live on with future generations.
Family history reconnects you to loved ones. Make it a point to ask thoughtful questions when you are with loved ones, like "What is your proudest achievement?" or "How do you want to be remembered?" so you know and can celebrate the moments that have shaped your family members' lives.
To help jump-start dialogue with family members, the National Funeral Directors Association (NFDA) created "Have the Talk of a Lifetime"conversation cards. The cards feature 50 thought-provoking questions, such as:
What have you learned from your children or other young people in your life or family?
Is there a story friends and family always tell about you?
What is your most treasured memory of your grandparents or other elderly family members?
The cards are designed to be a fun and easy way to get the conversation started at any family gathering, such as a family reunion or holiday dinner, or in a one-on-one setting with a loved one.
More than half of families feel it is important to gather family history from older generations, according to findings from the NFDA's 2017 Consumer Awareness and Preferences Study. Resources like the Funeral and Memorial Information Council's "Have the Talk of a Lifetime" program can help you take the time to start a conversation with your family and collect family history.            
These memories and conversations with loved ones can create an abundance of stories and family pride for future generations to cherish and live by long after past generations are gone.
For more information about the programand to request a free deck of the conversation cards, visit 50cards50questions.org.
Source:
National Funeral Directors Association