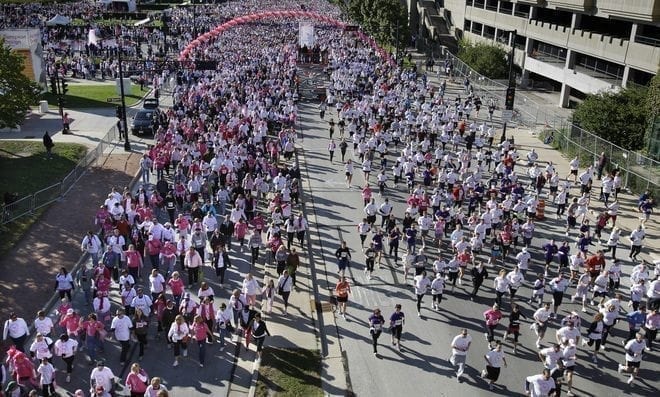 So, you've decided to run your first 5K race? First of all, congratulations on a really powerful commitment to a truly awesome fitness experience. I started doing 5K races for charity when I was in college. I always felt like that was my way of giving back while celebrating my love of fitness at the same time. I experienced a lot of trial and error during my race preparation process, and I want to share the things I wish I would have known when I ran my first 5K.
1. Get to the Race Early
On the morning of the first race I ever ran—5K for breast cancer—I was stuck in so much traffic and had such a hard time parking that I had to start the race late because I arrived after the official start. Now I know to always make sure I am ready to go with plenty of time to kill before race time. On the same note, make sure you read the e­mails that the race organization sends to let you know the fine details of the races, including transportation and street closures on race morning. I could have saved some confusion and stress had I done that.
2. Less (Gear) Is More
Unless you train with a jacket, gloves, belt, hat and such, don't run with these items on the day of the race. If races start early in the morning, it can be a lot colder than it might be by the time the race starts, and what keeps you warm pre­-race isn't really needed when your body is warmed up and moving. I often bring an old sweatshirt I don't care about losing, and just throw it off in the middle of the race so I don't have to deal with carrying it for the remainder of the route.
3. Keep Your Pace
Races make you excited and get your adrenaline pumping and, let's face it, make you think and feel like you can run faster than any other time in your training. It's always good to know your average 5K pace (or even average mile) so you know if you are going much too fast or slow during the race. It's not the best feeling when you start out too fast and burn out too soon.
4. Focus
Sometimes when you get to a race, ­there can be a lot of action, noise and stuff going on. Make sure you take time before the race starts to w​arm up,​think about the race, find your starting corral (most races have pace-per-mile signs posted in the start area—line up according to what you can actually run, not what you hope to run), and set your intentions for the race.
5. Be in the NOW
It's your first 5K! It's so empowering to do something that you've never done before and perhaps that you didn't think you was possible. This is just one step to much more. Look around, and enjoy the route and the experience.
6. Power in Numbers
Races can be really fun to run in groups. At my first race, I saw a lot of groups dressed in the same T­-shirt getting ready to run and support each other, and I thought that was really cool. You can decide if you like to r​un alone, with a partner or a group, but signing up with others creates a bit more accountability and a "we're-in-this-together" mentality.