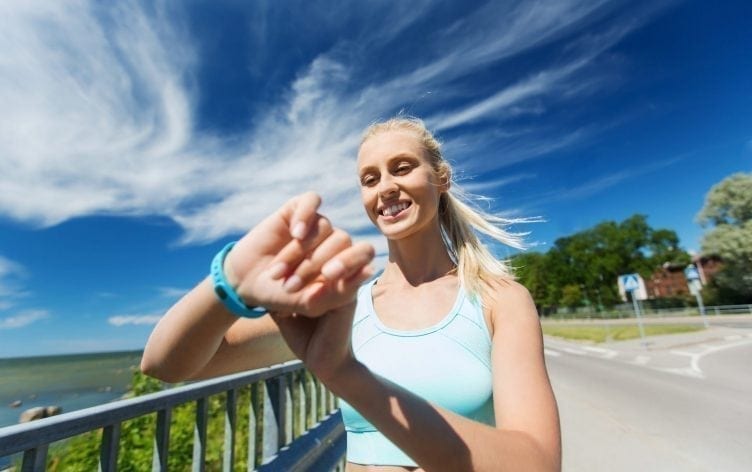 Activity trackers have never been hotter. Between 2014 and 2018, sales of wearables, including trackers, are expected to grow from 29 million to 172 million globally, according to CCS Insight. More telling? A PwC US survey revealed that 20 percent of Americans use a wearable.
But can activity trackers really help you get healthier, even lose weight? Yes—with a few caveats. "Trackers can help you get a handle on things about your health that you can't sense, especially your activity level," says Joseph C. Kvedar, M.D., vice president of Partners HealthCare Connected Health in Boston, adding that when people first start wearing them, they notice how inactive they are.
However, just gaining that data isn't enough. "Unless you have motivation to improve, either internally or from social support, trackers become useless," Kvedar says. In fact, among people in the PwC US survey who bought a wearable a year prior, 33% said they no longer use it. Interested in seeing the full picture of your health and fitness? These devices can't help you because most show you only one aspect, your activity and some also your sleep, but most send you searching elsewhere for tracking and data related to your workout performance and nutrition.
That may be because trackers alone do little to motivate people, which is why some manufacturers have added online communities so that their tracker wearers can participate in challenges and earn awards. Plus, seeing hard data can be discouraging to some people, especially if the data doesn't match their expectations, as studies have shown that people often overestimate their level of activity.
Shortcomings aside, though, trackers could still be a game changer for some individuals. Ready to join the tracking crowd? Here are five you may want to consider:
1) Fitbit Charge HR ($149.95, fitbit.com)
Pros: Fitbit stepped up its game with its latest wristband, which features heart rate monitoring. You'll still find the usual Fitbit features like distance, steps, calories, stairs climbed and sleep, but the Charge HR can also display incoming calls and texts when paired with a phone. Plus, the band vibrates when you reach your steps goal. Fitbit also awards badges for meeting milestones, and an online community gives support.
Cons: While you'll only pay slightly more for the Charge HR's heart rate monitoring (compared to the heart rate monitor-free Charge), it's not always accurate during higher intensity activities and may not be worth it if you already have a heart rate monitor. And while it's relatively consistent at tracking distance for running and walking, you have to log other workouts manually to get credit. Note that no tracker is 100% accurate, although a study of five trackers by the American Council on Exercise found that they all tracked steps taken within about 10% accuracy rate, giving the most accurate readings with lower-intensity activities like walking.
2) Jawbone Up2 ($99.99, jawbone.com)
Pros: Thought about setting an hourly alarm to encourage you to get off your butt? The Up2 comes with a customizable idle alert, giving you a reminder to move. Of course, the Up2 tracks standard variables like miles, active time and calorie burn, but where it excels is through its Smart Coach, which gathers data about you and then offers suggestions based on your habits to help you get healthier.
Cons: The band doesn't automatically go into sleep mode; you have to set it. Just be warned, though, as sleep tracking on any device may not be that effective, Kvedar says. You also have to enter activities other than walking and running manually.
3) Misfit Shine ($99.99, misfit.com)
Pros: This quarter-sized, aluminum tracker scores big for its versatility in how you can wear it. Turn it into a watch with a sport or leather band, slip it into a clip that you attach to your clothing, or wear it as a necklace. The Shine tracks not only when walking, running and sleeping, but also during cycling and swimming (up to 50 meters deep). It runs on a replaceable battery, eliminating charging hassles, and lets you compete or share milestones with other Shine users.
Cons: Shine only displays a series of lights to indicate how close you are to your goal, which may turn off data geeks. When you do want hard data—which is limited to calories burned, distance traveled, steps taken and sleep quality and duration—you'll have to tap the app to sync it. Shine also doesn't automatically go into sleep mode.
4) Withings Activite ($450, withings.com)
Pros: Don't want anybody to know you're wearing a tracker? Check out this classy, water-resistant (up to 50 meters) watch-plus-tracker, which logs steps, calories and sleep. It can even wake you with a vibration. The watch face features two dials, one that shows time (which, when connected to your smartphone, automatically adjusts to whatever time zone you're in) and the other how close you are to your steps goal. Through its app, you get tips, reminders and badges, and can start or participate in challenges.
Cons: Unless you're also looking for a watch, the cost makes this an unwise choice. And if you like hard numbers at your fingertips, this tracker may disappoint.
5) Garmin Vivofit2 ($99.99, garmin.com)
Pros: Forget about losing juice from your tracker's charge; Vivofit2 runs off a replaceable battery, which should last for at least a year. And while you can track all of the usuals with this one, including steps, calories, distance and sleep, it also lets you know when you've been inactive. A red bar will appear on the display, growing every 15 minutes until you move; after an hour of inactivity, you'll hear a quiet alert. It's waterproof so you can wear it 24-7, even when showering and swimming. Motivation is provided with virtual badges, online community and challenges.
Cons: You have to set the band to go into sleep mode. People have also complained about syncing issues.
Summary
The tracking craze is white hot but the leading devices on the market today have cons you should be aware of before taking the plunge.