Planning first-time solo travel abroad can be as exciting as it is anxiety-inducing.
Gone is the perceived safety net of tackling an international adventure with a travel companion or two. In its place is an opportunity to create a life-broadening experience on your own terms. In a lot of ways, it's empowering.
And if you don't know where to start, your best bet is to do so in Spain's Northern region, otherwise known as Basque Country. More specifically, in the capital of its Biscay province: Bilbao.
Questions will undoubtedly arise (as they will for most first-time solo travelers) about where to go, what to do, and how to get there. To help abate concerns, I've answered them all below.
What the heck is Bilbao?
While it may seem like an odd choice compared to the dazzles and delights of larger European destinations that are typically frequented, Bilbao is a perfect city to ease off the jet lag and into your trip. What was initially a planned 36-hour recovery period before continuing onward to Madrid evolved into a delightfully necessary primer to more robust adventures in Spain.
Getting to the city center is an easy 25 minute taxi ride from Bilbao Airport on a well-paved highway. Or, to keep some extra Euro in your pocket, you can board a bus headed in the same direction. No need to pre-purchase a ticket, pay with cash on board. (After traveling nearly 13 hours in the air from Los Angeles and a layover at Heathrow, I opted for the private reprieve of a taxi and willed my eyes to stay open as we made our way to my hostel.)
Bilbao was built on steel and shipbuilding industries, and it struggled to recover after the Spanish Civil War in the 20th century. Today, Bilbao strives to reinvent itself by wooing tourist dollars with its investment in the arts, geometrically stunning bridges, and, as part of the country's Basque region, notable eats. It seems to be working.
https://www.instagram.com/p/BKiSqbrDkit/
Will I get lost?
Here, not likely.
If Bilbao's Guggenheim Museum (designed by Frank Gehry) is its siren song, the city's compact center and understated character are reassuring signs that one can wander around at an accommodating pace. Opening its doors some twenty years ago along the Nervión river, the museum's sheer size and metallic exterior stand out.
Although I never stepped foot inside, I took in its shapely structure as I ambled past, remnants of my red eye flight fading. Even seeing it from afar was enough for me.
Instead, I spent much of the day strolling Bilbao's clean, tree-lined streets. Its orderly roundabouts, manicured parks, and the smooth comings-and-goings of its Metro feel more leisurely than frenetic. The city isn't very large. It's difficult to get lost around here.
How will I get around?
Your own two feet will do. In fact, I recommend it.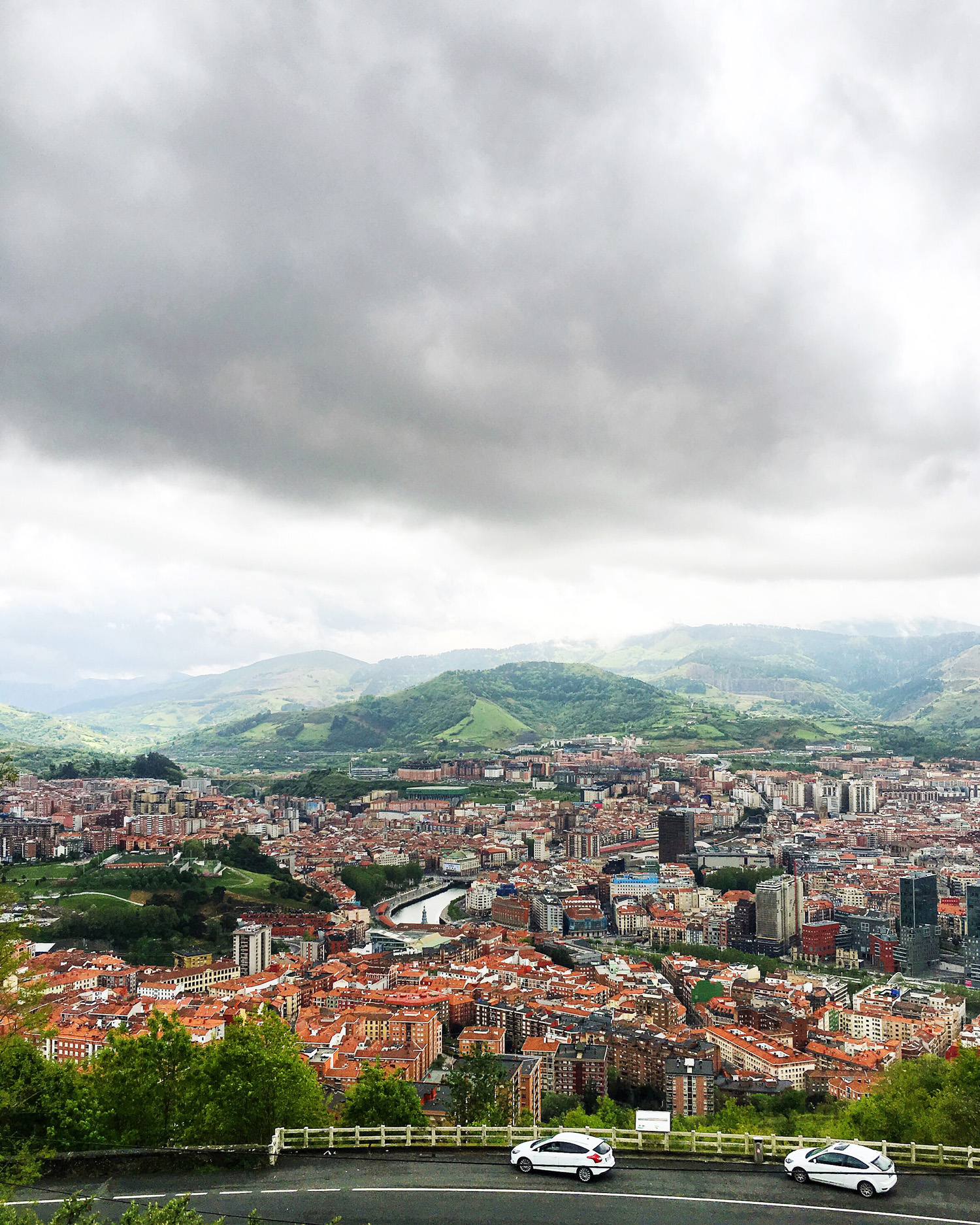 In the same afternoon, I followed my feet to the nearly 100-year-old Funicular de Artxanda, prompted by a local's recommendation (for a few Euro, a cable car will labor to deposit you at the top of the hill).
From the viewpoint, changing clouds above introduce you to Bilbao's moods. Under cloud cover and nestled in surrounding hills and mountains, Bilbao seems mysterious and contemplative. When they part to allow the sun, like a fresh coat of paint, the city brightens and comes alive.
At Artxanda's summit in mid-May, a cool breeze whipped the citrus scent around the dominating smell of wet grass as I peeled a tangerine. With only a few other onlookers present, I felt like the only patron in a performance theatre. The featured show: Cloud's artwork over Bilbao's canvas.
If you'd prefer to use the Metro, you'll find this page helpful. But I can't recommend walking enough.
What if I can't read the menu?
Bilbao's northern location likely means some literal rain on your solo travel parade. When it arrives, head South for a bit and then East a little ways from Funicular de Artxanda's entrance and duck into one of Casco Viejo's affordable bars or restaurants to sample pintxos, Basque country's version of tapas (only larger).
An advantage of pintxos to the new solo traveler is its presentation. They're arranged on plates and displayed at the bar for easy access. All you have to do is point, smile (for good measure), and say please. I, in celebration of my first solo trip, also ordered a glass of Txakoli, a white wine typical of the region.
Helping oneself to pintxos also seems socially acceptable, as I've observed locals do while I sipped my wine and drank in the scene. There are vegetarian options like mushroom and cheese, and no shortage of meat. Lots of jamon (ham), seafood, and more jamon. In Bilbao, like the rest of Spain, meals are languid affairs. Lunch, which can stretch past 4pm, is the heartiest meal of the day, which make pintxos a complimentary dining option for dinner.
Basque is unlike any other spoken language in the world, and a very difficult one to grasp, at that. While it's never a bad idea to learn basics ("Hello," "How much?," "Where's the restroom?") in any new language before a trip, pretty much all residents also speak Spanish (and many know a little English). A basic dictionary or translation app will get you around just fine.
What are the people like?
Even as a verbally inept outsider to the Basque dialect, and despite my subpar Spanish language efforts, I was received warmly by most of the locals I encountered in Bilbao.
I appreciated, for example, the patient waiter who helped me select my first set of pintxos in Casco Viejo. Or the amicable pharmacy cashier who rang up the tube of mascara I forgot to pack. Or the pleasant woman behind the counter of the frutería (She offered to wash my produce after I squeaked out a timid, "Dos manzanas por favor.").
As I wandered through the city's parks, back and forth along the river (on both sides), and around its residential areas, I noted more fathers and grandfathers accompanying little ones, pushing them in strollers, grasping their tiny hands, calling out to them while they played. It was a different sight, coming from my home in California, where moms typically rule the playground. But I digress.
What you see is what you get in Bilbao.
And as a first time solo traveler, what you'll get is a front row seat and a beautiful introduction to Spain.
---
Pin this post!

Have you ever traveled solo? Where's your favorite destination?