On day 2 of our adventure with the Gorilla Glass 4, we drive a sparsely populated desert road and stop at an empty parking lot. Around us are miles upon miles of open land speckled with giant red rocks. In our immediate vicinity is a line of colorful UTVs, or Utility Terrain Vehicles. They're waiting for us.
We're traveling through northern Arizona and southern Utah on an amazing adventure sponsored by Corning® Gorilla® Glass (see our disclosure statement here) while we use the new and exciting Samsung Galaxy S6 edge+ equipped with Corning Gorilla Glass 4, which dramatically improves protection against drops. With them, four amazing digital influencers comprise the Gorilla Glass 4, and we're one of them. We're exploring tough excursions like you've never seen before – and we're capturing them all on our Samsung Galaxy S6 edge+ devices.
Two burly men with warm smiles greet us upon arrival. They are Ben and John of Epic Adventure Rides, a year-old company that takes hungry visitors through rough desert terrain to experience some amazing (one might say "epic") views. When Ben asks us who has driven a UTV before, only our photographer, Raymond, raises his hand. It's going to be an interesting ride.
Getting in the Driver's Seat
As one who doesn't shy from challenges I, of course, volunteered to drive one of these puppies first. Nothing says "tough" like getting geared up in a motorcycle helmet and kicking up mud in a bright red UTV. Fellow Gorilla Glass 4 member Juliana and I named our vehicle "Pele", after the Hawaiian goddess of fire. We thought it'd be a nice fit for our new hot rod.
When we reached our destination, we had arrived at Paria Overlook, which sits just at the beginning of the Grand Canyon. The view provided a spectacular climax to our rocky ride, and we spent almost an hour snapping pictures.
What to Know About Your Ride

If you're headed on a UTV for the first time, here are a few things you might like to know (brought to you by the people who learned them through experience):
Prepare to Get a Little Dirty
Whether the desert is dry or freshly mudded after the rain, you should expect to get some good red dirt on your clothes. This may be through some epic splashing through puddles or simply the dry dust that your enormous wheels will kick up. If you do decide to go careening into a puddle (which, of course, we did), make sure to keep your belongings covered. We can assure you, mud will fly into even the most unexpected places.
Safety Gear Optional (but Recommended)
One thing we didn't know is that UTVs are almost just like cars. They drive like cars (there's a gas, a break, various gears, even directional lights for turns) and many people even use them as their primary vehicle around the Page, Arizona roads. That being said, they provide much less protection than cars do, and the tops of the vehicles, while appearing quite strong, will not keep you safe if the vehicle tips over. For this reason, each UTV is equipped with passenger handles (what Ben and John lovingly referred to as the "oh shit!" bars).
Helmets, goggles and gloves are offered to every passenger. In the name of safety, we took them. However, because the UTVs are so similar to regular vehicles, helmets are not required. And all you need to drive one is a driver's license. Goggles are useful if your UTV doesn't have a windshield as they will protect you from the various things that might fly into your eyes.
Follow the Leader
For a first-time UTV driver, one of my best tips is to stay behind your guide's vehicle (in our case, Ben and John). That way you can navigate the roads and decide where to put your wheels in tricky inclines or turns. Just like hikers do, watch the "footsteps" of the person in front of you – it can help you decide where you should go.
No Two UTVs Are Alike
We found Pele to drive like a dream. She was incredibly smooth and she even had a windshield. Other UTVs – often older models – handled less smoothly and were more prone to tipping over. If you're nervous about your first ride, try asking for a newer UTV with a smoother ride. Or if you want a real adventure, get one of the oldie-but-goodies.
Bring Your Camera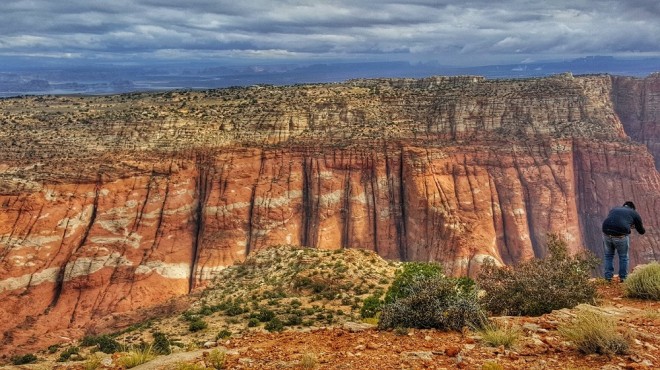 This one practically goes without saying. If there's a lot of mud out, bring a plastic bag to put your camera in to protect it when you drive. UTV rides with Epic Adventure Rides go to Alstrom's Point and Paria Overlook. Both are unforgettable adventures with views that only a limited number of people see in their lifetimes.
"Storm" with us — and Win a Ticket to Costa Rica!
This holiday season is your chance to be the best friend/mother/daughter/neighbor/niece/aunt ever by surprising a special woman you know with a trip of a lifetime. That's right!! In our final giveaway, we're giving you the biggest prize of all : a trip FOR TWO on the Wanderful/WHOA Travel Costa Rica Escape!
TONIGHT: It's a Twitter Storm
On Wednesday, November 18th at 9pm Eastern, we'll be getting on Twitter to chat all about tough experiences and Gorilla Glass. Anyone can ask the questions — and anyone can answer them! It's a TWITTER STORM and one lucky winner will win the trip of a lifetime.
Here's how it works:
Get on Twitter at 9pm on 11/18 and use the hashtag #gorillaglass4sweeps to filter content just like you would with any other Twitter chat during our one-hour chat session

Participate by answering our questions or check out the

prepared questions on Facebook

so you can help ask them at the right interval

Tweet like a maniac and invite your followers to the fun

On Thursday, RT one of our #gorillaglass4sweeps images to confirm your entry

On Friday, November 20th, we'll announce the winner. How easy is that?
What You'll Win
A FREE trip for two to the

Wanderful/WHOA Travel Costa Rica Escape

on January 16-23, 2016

A travel voucher for a round-trip flight for each to Costa Rica for the trip

A Samsung Galaxy S6 edge+ for each traveler to record it all!
Stay Tuned for More Great Stories
We can't wait to see your tweets come in! In the meantime, stay tuned for more adventures coming to you from the "Gorilla 4" – Kelly Olexa of FitFluential, Juliana Dever of Clever Dever Wherever, and Leticia Barr of Tech Savvy Mama and our own Beth Santos of Wanderful!