Before you explore any of the National Parks in the USA, please read this: How to Practice Allyship to Native & Indigenous Peoples When We Travel. Reflect on the history of spaces wherever we travel. You can learn whose land you are on through sites like Native-Land.ca and learn how (and why) to practice land acknowledgement from the Native Governance Center.
I know what you're thinking, how could anyone visit Yosemite National Park in just 2½ days?
My dad frequently spoke about the grandeur of the surrounding cliff faces and peaks, commenting on how the Yosemite Valley was almost too beautiful to be real. So, naturally, Yosemite had always been on my bucket list growing up.
Despite the little time I actually had to visit the park, I was so glad I got to experience what I did in person instead of on the back of an old postcard.
Now, I'm the type of traveller who wants to make the most out of every experience. I find it very difficult to sit still and take my time, often finding myself rushing from Point A to B. Because of this, I knew I would have to strategically plan all the 'must-see' sites of the park if I was going to conquer them in just a long weekend. I'm also an avid hiker, so I wanted to ensure I had enough time to walk a few of the well-known trails, too.
Day 1 – Half Day in Yosemite
I suggest you try to make it to the Yosemite Valley Visitor Centre by midday. For me, that meant waking up at 6am to drive the five hours to Yosemite from Lake Tahoe.
Entering the park from the east side, you will be greeted by the purple hues of Half Dome. Drive slowly into the valley, where you'll be surrounded by lush green sequoia and pine trees, deer, squirrels, butterflies and birds, running waterfalls, and there — in the backdrop — you'll see El Capitan, Half Dome, and Yosemite Falls.
You must stop to take a few snaps of this Eden-like utopia, with the tranquil sounds of the Merced River in the background.
Once you reach the visitor centre, grab a few hiking maps and take a quick tour of the nearby museum and boutique stores that sell local arts and crafts.
If you are looking for a short walk to start your day, I suggest the Lower Yosemite Falls walk. It is fairly easy and should only take about 20-30 minutes. It is a great way to get your bearings.
After this, hop back in the car and drive an hour up Glacier Point Road towards Glacier Point – a marvellous viewing spot of Yosemite Valley and Half Dome. Don't worry, there is plenty of parking at the top.
Glacier Point is also home to a few trailheads including Panorama Trail and Pohono Trail. And if you are feeling adventurous, you can always walk up to Glacier Point via The Four-Mile Trail (instead of driving).
But, be warned, this tough hike is 6-8 hours roundtrip. I'd leave it as an alternative hike to do on one of your full days.
I spent about an hour at the Glacier Point lookout, taking photos and sitting against a boulder, admiring the scenery. This is the perfect spot to watch the sunset and to soak up the beauty of this stunning national park.
On your journey back down towards the valley, be sure to stop at Tunnel View for more awe-inspiring scenery, then I'd advise checking into your accommodation.
Depending on where you are staying, you may have some extra time during the late afternoon to venture out on a few more light to moderate walks, however, if you are staying outside the park, I'd suggest ensuring you have enough time to drive out whilst it's still daylight as it can get dark pretty quickly.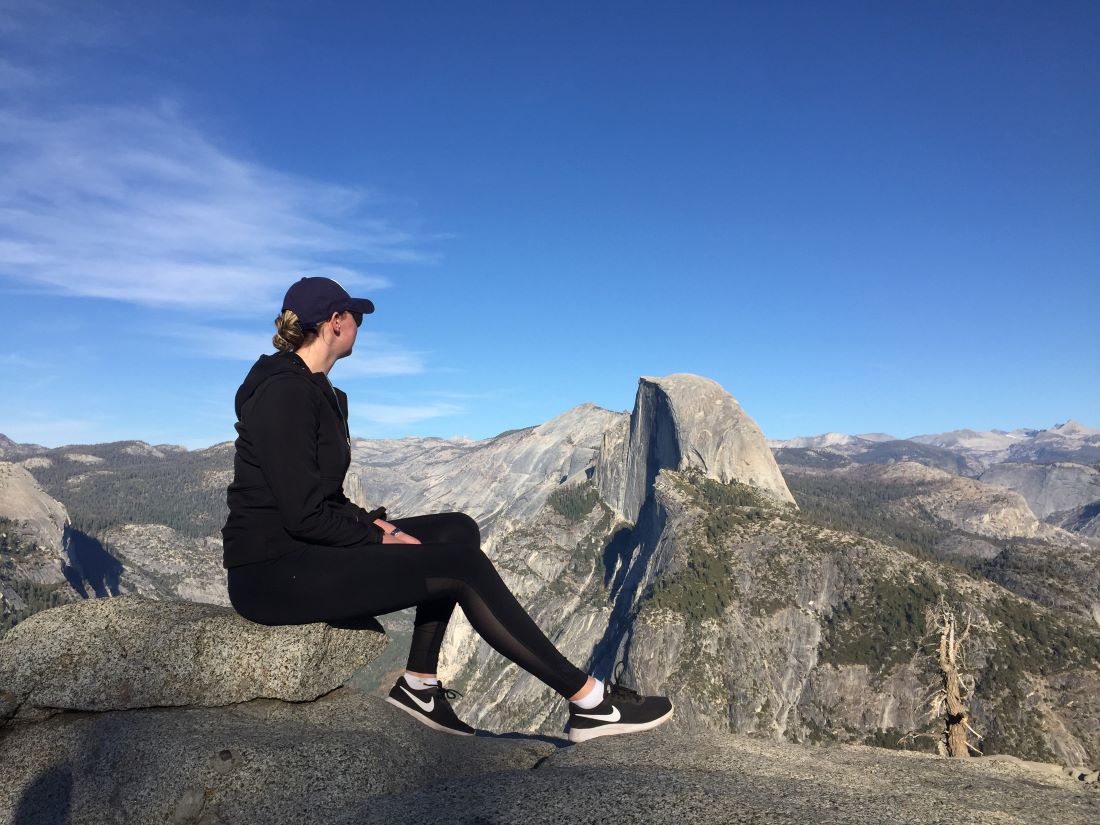 Day 2 – Full Day in Yosemite
For your first full day in Yosemite National Park, I suggest waking up early, around 7am, and driving to Mariposa Grove, which is located in the southern portion of the park about 33 miles from Yosemite Valley. The Grove is the largest sequoia grove in Yosemite and home to over 500 mature giant sequoias.
A free shuttle bus leaves every 15 minutes from the Mariposa Grove Welcome Plaza and can take you to the start of the trailheads.
The Grizzly Giant Loop (2 miles) is an easy walk and should only take around an hour to complete. This trail passes notable trees such as the Bachelor and Three Graces, the 3,000-year-old Grizzly Giant, and the California Tunnel Tree.
After visiting Mariposa Grove, drive an hour towards Yosemite Valley. Once you've arrived, The Mist Trail is a great option if you are not quite sure what to see, as this will take you along Vernal Falls, Nevada Falls, and eventually leads onto the John Muir Trail before descending into Curry Village.
It's a great option as you can decide whether you want to keep going onto the next waterfall or if you'd prefer to see one and head back down.
When I undertook this hike for the first time in Autumn (November), I was lucky to see a few of the waterfalls still flowing, but the best time of year to really see them in full pelt would be around Spring. I also wasn't too sure what to expect from this hike, or from myself, especially as I had been living on a diet of Chipotle and Chick-fil-A for the past two weeks (the roadtrip diet).
The ascent up the stairs towards Vernal Falls was steep and it seemed as though it would never end. It took me about 45-50 minutes to reach the top of Vernal Falls and I was completely exhausted once there.
I definitely would not suggest embarking on this hike if you're not feeling fit or well. Ensure you eat a healthy meal the night before and bring plenty of sandwiches, fruit, and protein bars to keep you moving up those stairs.
Once you've reached the top of Vernal Falls, take a break and massage those legs. They will be hurting!
Whether or not you choose to proceed onto the next waterfall or head back down for a snack in the village, make sure you get a chance to gaze up at El Capitan. You can really see just how insignificant we all are compared to this mighty granite wall.
Bring binoculars and you might catch a glimpse of the tiny, ant-sized rock climbers setting up camp on the cliff face.
Day 3 – Full Day
On your last full day at Yosemite, I suggest driving back up Glacier Point Road and stopping at the Sentinel Dome trailhead.
The 1-mile walk to Sentinel Dome is fairly easy and once at the top, you'll see panoramic views of the valley. You can see all the major points of interest here including El Capitan, Yosemite Falls, and Half Dome. ​
If you proceed back towards the trailhead you will also find another 1-mile, simple walk in the opposite direction towards Taft Point.
When I visited Taft Point, I was fortunate to see a group of people tightroping across a nauseating sheer drop. They had set up the rope and equipment themselves, all at an elevation of 7,500ft!
But, don't worry, they had at least ONE rope attached to them in case they fell. Witnessing this was definitely the highlight of the day.
If you visit Taft Point on a weekend you might be lucky enough to see the tightrope experts in action. Just don't look down.
Afterwards, drive back down into the valley. The Yosemite Valley Loop Trail is a great way to see the native flora and fauna on foot. The trail passes through meadows, forests, and trails along the Merced River.
If you decide on just doing the half-loop, it will take roughly 2½ hours to walk. You'll be sure to see the Yosemite Valley Chapel, the Swinging Bridge, and can even enjoy a picnic at Sentinel Beach. It's a relaxing way to end the day.
Overall, I'm sure you'll enjoy your time at Yosemite National Park. Two days can give you a glimpse into what more the park can offer.
Hopefully, next time, you can plan to stay a week and conquer the 12-hour Half Dome trek, but don't forget to bring good hiking shoes, plenty of healthy food and drink, and an appetite for adventure.
Accommodation Recommendations for Visiting Yosemite
Staying in the park itself can work out to be quite expensive.
Why not opt for staying outside the park in the small town of Mariposa, about an hour's drive from Yosemite Valley. There are plenty of restaurants, grocery stores, and gift stores that you wouldn't find in the actual park itself. Mariposa also has a quaint country town feel with early 20th-century architecture.