Last week, we hiked through the amazing sights of the Pacific Northwest on an unforgettable trip sponsored by Corning Incorporated, known for their incredible Corning® Gorilla® Glass 4. The glass is found on a number of mobile devices, including the Samsung Galaxy S6, which we used exclusively on our trip.
It's Corning's toughest glass cover yet – and we're testing that toughness as we scale mountains, hike through lava caves and explore other "tough drops" around Oregon.
I took on the adventure with an elite team of travel influencers, including Mariellen Ward of Breathe Dream Go, Teri Johnson of Travelista and JD Andrews of EarthXplorer. We were known as the "Gorilla Glass 4" (we even had jackets).
Our mission was to share the amazing wonders of the Pacific Northwest, and to see if we could capture it all using only a Samsung Galaxy S6 phone. You'll have to see for yourselves if we did the gorgeous region justice.
Day 3: "Don't tell anyone else!"
A train travels along the Deschutes River, as seen by a Samsung Galaxy S6 with Gorilla Glass 4.
On day 3 of our trip I got into a friendly conversation with our next-door neighbors, two elderly men who were taking a few days to fish the waters of the Deschutes River. They took active interest in our story of capturing the wonders of Oregon on our Samsung Galaxy S6 devices. They asked if we were from Oregon, and we said no.
Then, one of the men turned to me and said, "Well, how are you liking it?" I dove into a monologue about how I'd never been here before and how Oregon was one of the most beautiful places I'd ever visited, and had no idea that I would find so much natural variety in one state. He smiled and with a twinkle in his eye said, "Good. Now, please, don't tell anyone else!"
It's this simple satisfaction that I've found from many Oregonians. There's absolutely no desire to boast about the gorgeous wonders of their state – the thick mountains that transform into rolling vineyards and rocky deserts, the salty ocean, the cute little postage stamp towns with friendly neighbors that go out of their way for strangers. In an Oregonian's mindset, it's better to keep this amazing secret – well, a secret.
That's why when we happened upon the Painted Hills, known as one of Oregon's seven natural wonders, the incredible hills themselves took us by surprise.
The Painted Hills – Another of Oregon's best-kept secrets
The Painted Hills, as seen by a Samsung Galaxy S6 with Corning Gorilla Glass 4.
On our way to the hills, we met a woman in a dusty SUV. She was road-tripping from Georgia and saw the Painted Hills along the way by happenstance. When she spotted them, she took a sudden detour. She had no idea that they even existed.
All I could think was,welcome to the club.
The Painted Hills are three units of the John Day Fossil Beds National Monument. The nearest town is Mitchell, Oregon, located nine miles away. The more than 30 million year-old hills are adorned with bands of mudstone, siltstone, shale, laterite and lignite, each formed in a different geological era, resulting in colorful stripes that look like they have been "painted" onto the mountains.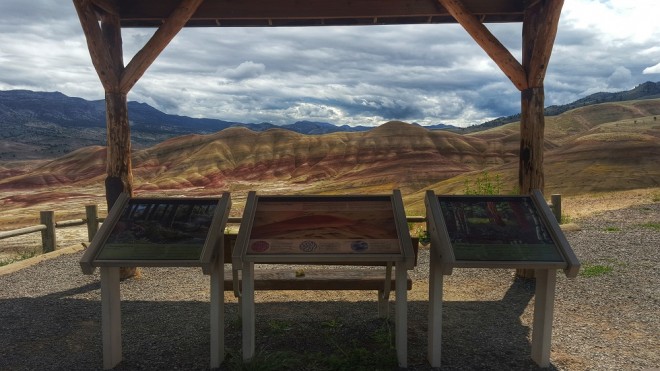 The hills are so dry that they are cracked through; tiny crevices that run up and down their sides. Because they are so fragile, visitors are prohibited from walking anywhere close to the hills themselves. Lucky for us, there's a visitors' area that's part of the hills where you can walk on a boardwalk right next to some of the smaller hills to get a close-up view.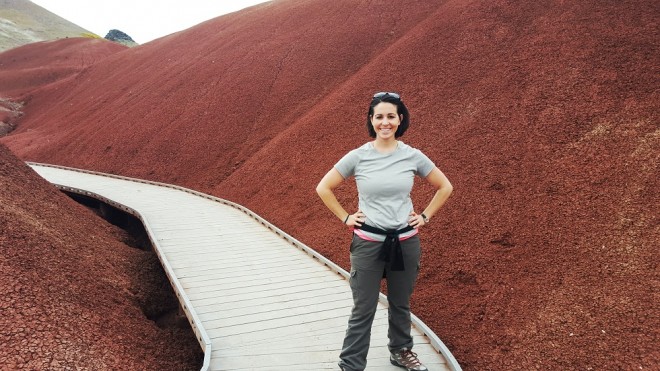 Beth in the visitors' area learning about the more than 30 million-year-old hills.
The experience of being at the Painted Hills is absolutely sacred. There is little wildlife, so the air is nearly silent, except for today, when there was a constant breeze from an incoming storm. Check out this short video as I walk through the Painted Hills so you can get a feel for what it's really like.
What tomorrow brings
Tomorrow we'll explore one of Oregon's toughest drops, Smith Rock, which is a huge rock climbing destination. After that, we'll take the car to Newport, a beach town about three hours away. We can't wait to show you more "tough drops" around Oregon as we collaborate with Samsung and Corning Gorilla Glass!
Want to win a Samsung Galaxy S6?
Our team is psyched to give away six Samsung Galaxy S6 smartphones over the next few weeks (May 18 – May 29)! This, of course, will happen ONLY if you follow along on our adventures here and on Twitter using the hashtag #GorillaGlass4. Click here to begin!
Note: This blog post was sponsored by Corning Incorporated. However, all opinions are our own and we stand by them! Click here for our full disclosure statement.