Nurturing Selflessness in a Selfie Culture

How to develop character in young children
In a typical day, it's possible for children to spend more time engaging with technology than interacting with their peers face-to-face. As a result, the "selfie culture" is on the minds of today's parents, who worry about how they can make sure their children grow into kind and selfless adults.
However, a national survey revealed that parents don't fully realize the power they have when it comes to developing good character in their children. The online survey, commissioned by national high-quality preschool provider Primrose Schools®, profiled hundreds of U.S. parents whose children attend, will attend or have previously attended an early education program between the ages of 3-5.
In today's social media-focused world, 92 percent of parents agree that nurturing positive character traits in children is more important than it used to be. Yet nearly 50 percent of parents are unaware of just how early they can and should start helping their children develop these traits.
When Character-Building Should Begin
The foundational skills for good character start emerging in the first year of life. Children as young as 6 months old can demonstrate outward signs of budding empathy skills. Character and emotional intelligence continue to develop throughout the early years and are significantly influenced by young children's interactions with their parents and caregivers. Yet almost 50 percent of parents believe preschool is too early for children to start learning social-emotional skills, and could be missing critical opportunities to support their child's development.
Why Nurturing Good Character Early is Important
Intentionally nurturing social-emotional skills starting at birth is an important and often overlooked opportunity as these skills have been shown to be key predictors of future health, academic and life success. Early brain and child development research now shows more clearly that the first five years of life are critical for building the foundation for traits such as honesty, generosity, compassion and kindness, which will impact children for a lifetime.
"We now know that IQ no longer represents an accurate predictor of school readiness, much less future life success," said Dr. Laura Jana, a pediatrician and nationally acclaimed parenting and children's book author. "It's not just about learning the '3 Rs' of reading, 'riting and 'rithmetic anymore. It's the addition of a fourth 'R' that represents relationships and the importance of reading other people, which sets children up for success in today's world."
Finding Child Care that Nurtures Good Character
In addition to parents, child care providers play a key role in helping children develop a strong foundation. However, more than half of parents surveyed feel their child did not or will not acquire honesty, generosity and compassion (54, 54 and 62 percent, respectively) during their early education experience.
Parents seeking early education and care for their children should look for providers that emphasize character development. In these nurturing environments, children have opportunities to learn and practice social-emotional skills every day through games, puppet play, books, music, art projects and more. At Primrose Schools, their Balanced Learning® approach also includes hands-on experiences to help children apply concepts like generosity in real-life situations.
For example, each year thousands of children at more than 325 Primrose schools across the country take part in the annual Caring and Giving Food Drive. The preschoolers earn money to purchase canned goods through chores at home. They practice perspective taking, learning about the importance of giving through stories, songs, art projects and more. They even take field trips to grocery stores to shop for food items, which are then donated to local charities. At the end of the experience, the children feel a sense of accomplishment and have practiced skills like empathy, generosity and compassion.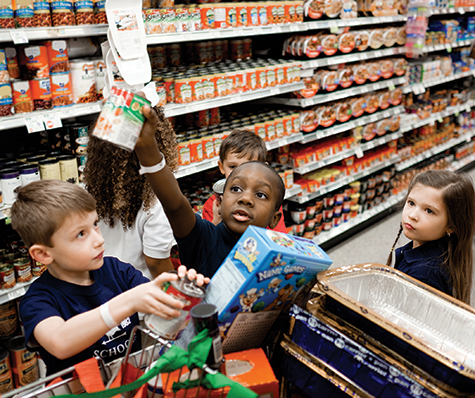 "We believe who children become is as important as what they know," said Gloria Julius, Ed.D., vice president of education and professional development for Primrose Schools. "That's why nurturing children's social-emotional development and building character has been an integral part of our approach for more than 30 years."
Developing Character at Home
Take an active approach to helping children develop a solid foundation in good character with these tips:
• Help children recognize their feelings. Help little ones recognize and understand their feelings by giving them vocabulary words to express themselves.
• Lead by example. Children learn a lot by watching the interactions of adults. Model social-emotional skills by listening to others, apologizing when you hurt someone's feelings, being respectful of others, etc.
• Help children identify other perspectives. Point out differences in other people's thoughts and feelings. When reading with children, ask what they think the characters are feeling or narrate the emotions and exaggerate facial expressions for young children.
• Talk about your own decisions in terms of right and wrong. As children's abilities and understanding grows, discuss your values and take advantage of everyday situations to describe and demonstrate good citizenship and desirable behavior.
• Let kindness and respect rule the day. Set household guidelines grounded in showing kindness and respect, and help children learn to follow them. When they break the rules, calmly explain how or why their behavior was unkind and how they could have better handled the situation.
For additional information, tips and resources on how to nurture good character in children, visit PrimroseSchools.com/character-resources.
Source:
Primrose Schools
Save
Save
Save
Save