At Wanderful we're all about the sisterhood, and we love hearing from our community! That's why our global membership (formerly known as "pro membership" is so cool: Wanderful women from all over the world get to access the all the benefits of being Wanderful in awesome ways.
In addition to exclusive, members-only access to resources and content on sheswanderful.com, global members get access to our monthly webinars featuring inspiring women travelers, $20 off their tickets to the Women in Travel Summit, and so much more.
To say thank you to our global members and celebrate what an awesome community of women we have, we feature one global member a month.
Say hello to Annifreed Sinjour!
Annifreed is a few years out of college and navigating her way through the young, professional world. In her free time she volunteers with a youth hostel and an AIDS organization a couple of nights a week.
She's a bit of a weekend warrior — most of her weekends are jam-packed with a random assortment of plans. She's the happiest when she's traveling, hanging out with friends, going to festivals, shopping, watching sports, listening to music, and, most importantly, stuffing her face with good food!
Where are you from?
Boston, Massachusetts
Social media handles and blog:
Personal Instagram: @freedmiiester
Instagram for travel: @frequentfreedmiles

Blog: frequentfreedmiles.wordpress.com
What makes you Wanderful?
I would say that my optimism, willingness to try new things, and ability to keep an open mind make me Wanderful.
Tell us about your most impactful travel experience.
My most impactful travel experience was my first trip overseas — two weeks in London and Rome with my friend.
During that trip was the first time I had to figure out a lot of things on my own without the constant guidance of an adult, which built some confidence in me and erased some prior fears I may have had about traveling, especially as a female. Although I had done some traveling along the East Coast in years prior to this trip, it was on the trip that I most definitely caught the travel bug.
At the end of this trip, my friend and I had a conversation where she said she was ready to go home, but I knew I had the energy and excitement to keep going. I think after that trip I knew that I wanted to make traveling a larger part of my life and something that I really made an effort to do whenever it was possible.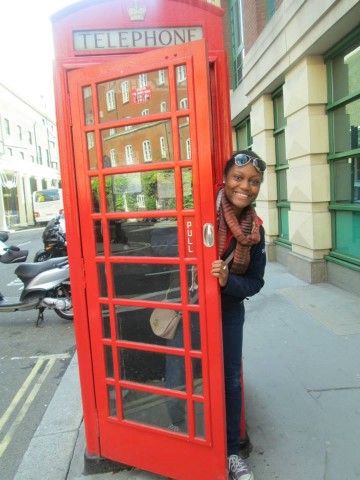 Which destination have you always wanted to visit?
France!
What's your travel mantra?
Always keep an open mind, and try to see the strange as familiar and the familiar as strange.
Share your best tip for female travelers.
Obviously, keep your wits about you, but don't let misconceptions of "the big bad world" stop you from traveling. There are so many resources out there (like Wanderful) to help guide you along, should you have any questions or concerns.
[mks_pullquote align="right" width="300″ size="24″ bg_color="#ffffff" txt_color="#36adaf"]If you have the means to fulfill your dreams, don't let fear hold you back.  [/mks_pullquote]
What do you like most about being a global member?
I've really enjoyed having special access to the Wanderful Facebook page. Members post a lot of really great questions and comments. For example, a few weeks ago someone asked what everyone's top five places to see this year were. I realized that I had never thought of that because I had always limited myself to two or three places a year, and it really got me thinking!
I have also been able to enjoy some of the perks of being a pro [global] member. Recently, the Boston Globe Travel Show was in town, and by being a pro [global] member, I was able to get free tickets!
Get more involved with Wanderful: Be a global member!
For $7/month or $69/year, you get all the perks of free membership, plus:
Special perks at select events & admission to members-only events in a chapter near you
Access to our monthly members-only webinars featuring inspiring women travelers around the world
$20 off your ticket to the Women in Travel Summit
Opportunity to be a featured member on sheswanderful.com
Exclusive members-only access to resources and content on sheswanderful.com
Member badge for your blog or website
Sign up now
What do you love about the Wanderful community? Share with us in the comments!
Featured image of Annifreed at a Red Sox game at Fenway Park in Boston, Massachusetts. Image courtesy of Annifreed Sinjour.