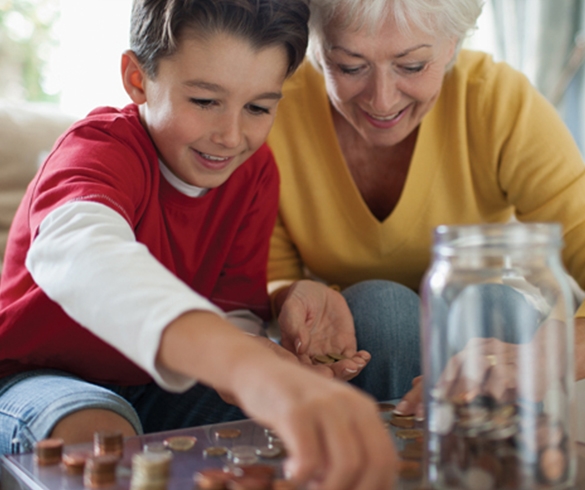 Make a Lasting Difference

Whether you're considering ways to give to deserving causes or looking for the perfect gift for a loved one for a special occasion, remember that not every gift is a tangible item. In fact, some of the best gifts are those you can't touch at all, but those that make the world a better place.
Socially motivated gifts, of your own accord or on behalf of someone else, are much more than a one-time present. They have the potential to make a significant impact on lives or to further the work of a cause-based organization.
Consider these giving options to make a lasting impact:
Retirement plans: Because retirement plans are taxed differently than most assets, they may actually become a tax liability. Naming a nonprofit organization as a beneficiary of your retirement account can be an attractive option for leaving a legacy and reducing income, and possibly estate taxes, for loved ones. A tax-exempt organization may be eligible to receive the full amount, bypassing income taxes. This means, for example, that a $100,000 IRA can be worth the full $100,000.
Life insurance plans: A gift of life insurance is an affordable way to make a significant gift while also enjoying tax savings during your lifetime. Benefits include the ability to give a significant gift at a fraction of the value; tax savings that can be immediately realized; a reduction in the final taxes of your estate and the ability to pass gifts outside of your estate.
Gifts of real estate: You may decide that the greatest gift you can make is to leave your home or other property to a charitable organization. This kind of gift is ideal for someone who intends to continue living in his or her home or property through their lifetime, but still make a charitable gift. You can leave this generous gift by signing an agreement with an organization about maintaining the property so you can use it throughout your lifetime. You may even receive a tax deduction for your gift.
Gifts of stock: Stocks, bonds and mutual funds that have appreciated in value are among the best ways to gift a nonprofit organization. You may receive a charitable income tax deduction for the full market value of the stock (up to a maximum of 30 percent of your adjusted gross income) and avoid paying the capital gains tax on any increase in the value of the stock.
Gifts of cash: This type of gift is simple and eligible for an immediate charitable tax credit. Although many organizations allow you to specify how you would like the funds to be used, an unrestricted monetary donation allows the organization to allocate your contribution into the project or area that needs funds most.
If you designate a gift on someone's behalf, be sure to share a card or a note with the honoree letting them know about the contribution. Particularly if it's a cause close to the heart, it's sure to be just as gratefully received, if not more so, as any trinket you might buy.
Find more ideas for gifts that make a lasting difference at eLivingToday.com.
4 Ways to Make an Impact on Children
When looking for opportunities to make an impact on the lives of others, selecting a cause to support can be an overwhelming task with so many options to choose from. However, considering opportunities that can change the lives of kids is one way to make a lasting impact for generations to come.
Helping children early on can change the trajectory of their lives, set them up for success and empower them to achieve their dreams. This is especially important for kids living in poverty who are not guaranteed access to things like medical care and quality educations. According to global humanitarian organization Children International, nearly half the world lives on less than $2.50 a day and 1 in 5 kids in the United States lives in poverty.
Consider these ideas to make an impact on children in need now and well into the future:
Become a mentor or coach. A positive role model can make a life-changing difference for a child from disadvantaged circumstances. As a mentor or a coach, you can help children explore and nurture their unique talents and guide them toward a successful future.
Volunteer at a local school. Families increasingly rely on two incomes to support their households, which means parents are less available to lend their time to their children's classrooms or schools. At the same time, public school funding is shrinking. As a volunteer, you can help fill these gaps and contribute to bettering the learning opportunities for children in your community.
Sponsor a child. You may be surprised to learn how far a monetary donation can go. For example, Children International supporters can join a monthly giving program and sponsor a child in poverty for $32 per month. Your donation establishes a connection with an individual child who receives access to life-changing benefits like medical care, educational support and life-skills training. The institution is a CharityWatch top-rated organization that serves 250,000 children in 10 countries. If a reoccurring donation is not right for you, the organization also accepts one-time donations. Learn more at children.org.
Donate new or used items. Service organizations such as shelters generally operate on tight budgets and rely on contributions from the community. Gently used items in good condition such as children's clothing of all sizes and warm bedding are generally welcome.
Photo courtesy of Getty Images (Young boy and Grandmother)
Source:
eLivingToday.com