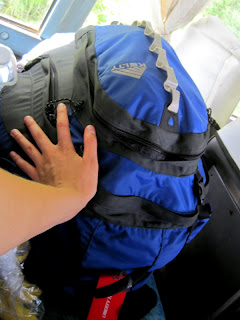 After two months on the road, voyaging from Boston to California, to Japan, to Southeast Asia, which travel gear has proven to be the most and least useful? What should YOU consider packing if you're planning a long-term trip, particularly to the Developing World?1. A medium-sized travel backpack (non-wheeled!) which zips more than halfway open (not top-load) and which fits in an airplane overhead bin. I almost splurged on a rigid wheeled backpack, but such an item is officially not worth it! My Kelty Redwing 3100 is absolutely perfect: hardy, light enough to easily tote around, and just big enough without being obese.
2. A quality digital camera that is neither too big nor too expensive. 
I used to not believe in taking pictures ("just live in the moment, man– not behind a screen") but I was wrong. It really enhances an experience to capture the art of the moment and be able to view and share it again later. My Canon Powershot (get lithium batteries– not AA!) is serving me well. (Sorry about the MySpace-style cheesy photo to the right, but a mirror shot was the only way to capture the camera's beauty!)
3. Pants and shorts with pockets. You will need those pockets. On a late night, on the beach, or in the crowded marketplace, you don't want to be schlepping your Vietnamese Dong in an unwieldy purse.
4. Chaco sandals. I worship these sandals. WORSHIP. They have heavenly arch support, are rugged enough to scale a volcano (or, in the photo below, the craggy steps of Angkor Wat), wash easily, and in my sincere opinion (and experience)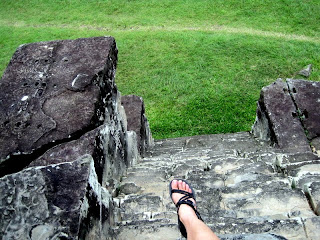 are sexy enough to wear to a dress-up dance club.
5. A sarong (in my case, a giant gay flag from Brazil). You'll need it on the beach for a blanket and a post-swim dress or skirt. You'll need it as a towel in the 50% or more of hotels that charge extra for towel service, and it will dry by morning. You'll need it as a curtain for privacy on the go. Finally, you'll need it for a sheet or blanket in chilly or dirty places. Similarly, I am now a convert to the bandanna/handkerchief-as-washcloth scheme. It works just fine, folds up TINY, cleans easily, and dries in an hour. I have two now and use the second to wrap things that might burst in my backpack.


6. An inflatable travel pillow. YES. I break out in a cold sweat remembering how I almost didn't bring this. You will be in LOTS of long, bumpy, sleepy transportation situations. Get a cheap eye mask, too, and store it inside the removable cover of the travel pillow.
7. Deodorant, detergent, a universal sink stopper, and a portable clothesline. You will reek. (In fact, I do right now.) Therefore, you will need these items so you won't have to introduce yourself (as I did today) by saying, "Hi, I'm Lillie. Sorry I smell right now but I didn't have time to shower before the morning bus."
8. A daypack and a sporty purse. 
During transportation, all of your valuables should go in these, and stay tightly with you, while your big backpack goes in the trunk under the bus or on the roof (and is subsequently molested by unsavory employees). These small packs are also utterly necessary for day and night outings. Another nice luggage addition is my very thin STA Travel backpack (my first paycheck from them for writing for their site!) which is basically a medium-sized, light drawstring pouch with two loops for your arms. In fact, having several of these would be useful because they provide featherweight storage with immediate portability.
9. Plastic bags galore, and other storage wizards. Hearty Ziploc bags are the "drawers" in my backpack to separate shirts from bottoms. Socks, underwear, and the sarong are in small mesh string pouches. Two thick Gap bags hold my sneakers and dirty laundry. A spiffy but small cloth toilet kit holds the toiletries, which are in turn divided in Ziploc bags (thus saving my bag from the Great Shampoo Explosion of October Ninth).
10. A small netbook computer!!!! I cannot emphasize enough how much money, time, and stress this will save you in the year 2009 and beyond. Free Wi-fi is now EVERYWHERE. I am using it now from my $7 hotel room in Dalat, Vietnam, and I used it this afternoon at a random Vietnamese soup restaurant. If you don't have your computer, you are at the mercy of dirty, expensive internet cafes, and you will have to upload your photos onto a stranger's hard drive. My ten-inch Asus eee PC is the best $250 (cheap!) that I've spent in years. 
Opt for the built-in webcam and microphone so you can Skype video-chat for free online with loved ones across the globe!
11. Amusements that work for you, because otherwise you will hurl yourself out that grubby bus window. New York Times Sunday Crossword books are my lifesavers, as I literally can sit for four hours straight doing them in a tranquil trance. Guidebooks are both essential and entertaining. You will also want at least one novel (which can be acquired on the road) capable of pulling you out of a funk. Currently, Henry Miller's raunchy-as-all-get-out antics in "Tropic of Cancer" makes me laugh aloud when I was depressed and lonely only before.
12. Anything that your destination region will NOT have. Do you have giant feet or an overflowing bust? Asia will not be able to provide you with shoes or bras. Given that the markets sell everything from scorpions to thirty foot high sculptures, I found this very hard to believe at first, but it's true. When my big-footed friend needed a new pair of flip flops, the Bangkok merchant said it would take weeks to ship them in from abroad. Pens, sanitary pads, and shampoo, however, you'll snag easily on any corner.
Now… Items that it turns out I DIDN'T need.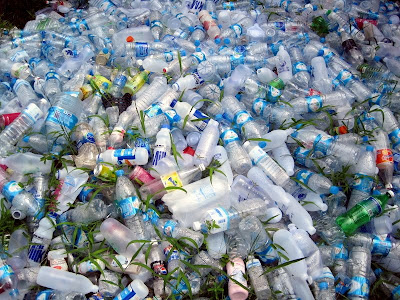 A. A water bottle. In countries where you can't drink the tap water, you're going to (sorry, environment) buy a big plastic bottle of H2O every day anyway. What's the point of bringing another jug into the mix? On the off chance that you find a giant purified water cooler to fill your supposed Nalgene with, you will have another plastic bottle on hand anyway that you bought that morning that you could re-fill instead, thus being able to throw it away when you're done instead of washing it.
B. A sleeping sack. Okay, I still may (noooo!!) get bedbugs and rue putting this on the "don't need" list, but thus far my beds have been just fine, and in the one $2 gem with the fleas, I just asked for new sheets and towels and slept on those. In questionable beds, I put a towel or sarong on top of the sheet to add a tad more protection from the unknown.
C. Hiking boots.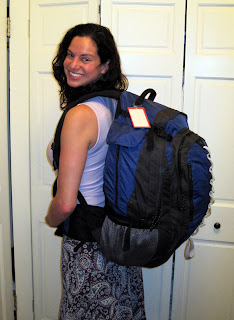 If you're going to absolutely, definitely be hiking in areas that mandate boots, by all means take them. That said, my Chacos (kiss, kiss, babies!) and sneakers have been just fine for all of my purposes, and it is delicious to not have those fat hikers dangling ponderously off my bag.
D. Tons of clothes. On the week of my departure, my dear friend Meg heartlessly cut half the clothing inventory from my bag (including the entire outfit I was wearing for this pre-Japan-flight photo to the left!). I haven't regretted a single one of her eliminations. Think long and hard about what you actually like wearing, and what is versatile, useful, and hardy, then pack just a few of those and nothing else. If you get really desperate on the road, two dollar shirts and pants are on every corner.
So we shall see how this list changes, come the three-month reflection. If you have anything to add to this list, chime in!
Catch more of Lillie's adventures at Around the World "L"!