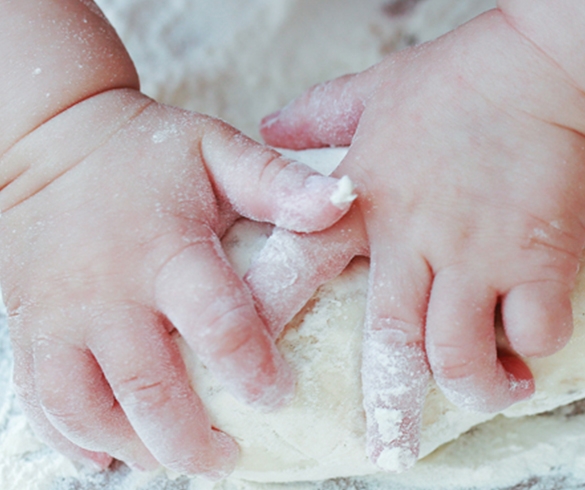 Building Babies' Brains

3 indoor activities to encourage fun and education
Being stuck inside with a baby during the colder months can leave even the most seasoned parents feeling a bit stir-crazy.
Consider these activity ideas from Ann Fisher, an award-winning teacher at KinderCare, that you and your baby can do together no matter the weather or where you're traveling. Because these ideas involve materials you likely already have at home, that means you can entertain baby without going out to buy new toys or materials.
"The important thing is to show your baby how excited you are to teach them something new," Fisher said. "You just have to be down at their level and make lots of eye contact. Talk to your baby about what you're doing and ask questions. It's OK if they can't answer you yet – it's all about the interactions you have while you're exploring and learning together."
1. Explore a world of smells.
Spicy cinnamon, sweet vanilla, crisp mint – your pantry is probably already stocked with tantalizing scents that can help your baby learn about the world. It's easy to grab a couple spice jars and introduce your baby to new smells right in your kitchen.
Take an empty spice jar (the smell typically lingers) and hold it under your baby's nose. Choose plastic instead of glass so your baby can play with the jar after taking a whiff. He or she may be captivated by all the new smells, and you'll be putting old things to good use – it's a win-win.
Safety tip: Make sure the jar is big enough that it won't end up in your baby's mouth, and always keep a close eye on him or her.
2. Reuse all those old boxes.
Turn any empty cardboard boxes lying around the house into a brain-building activity for your baby – it's never too early to start playing pretend.
Whether you make a box fort to explore together, a maze for crawling through or a make-believe drum set, your old cardboard boxes are full of imaginative possibilities for play.
When you're all done, it's easy to break the boxes down and either store them for next time or recycle them.
3. Bring the outdoors in.
Snow, sand, dirt – wherever you live and whatever the weather is like outside, you can let your baby dig with his or her little hands right in the comfort of your home. All you need is a bucket and some extra wipes for the inevitably messy fun.
Getting down and dirty lets your baby practice fine-motor skills and explore with his or her senses. Just scoop a few small shovelfuls of (pesticide-free) snow, sand or dirt into the bucket and bring it inside for your baby to play with. Adding some "homemade" sandbox toys like a big spoon and spatula can make the game even more fun.
To keep cleanup easy, consider laying down a sheet of cardboard or a plastic tarp on the floor.
For more activities you can do with your baby any time of year, visit KinderCare.com/blog.
Source:
KinderCare