While some Wanderful Chapters are starting their in-person events again, we continue to connect with travel-lovers all around the world through our virtual events. Don't miss these top online events happing in September!
Several of these events are for Wanderful members only, so be sure to join our global community to take part. There are also public events that are open to all, whether you're a traveler or a travel content creator. Wanderful members attend our regular events for free.
If you've been on the fence about joining as a member, now is the time! As of 1 September, our membership fees are increasing as we add more in-person events plus some fantastic new perks. Lock yourself into the current rates before they go up!
Without further ado, here are some upcoming virtual events for travelers and creators in September 2021.
Wanderful's September Rundown
1 Sept: Wanderful Women Wednesday: Our Cornerstone Travel Chat!
11 Sept: Conscious Traveler Reading Club: Sustainable Travel: The essential guide to positive impact adventures
13 Sept: September Mindfulness Masterclass: Maintaining Balance in a Post-COVID Environment (Part 2)
16 Sept: Influencer Marketing Like a Boss: Creating Communities You Love in More Ways Than One!
23 Sept: Accountability Circle: Creating Equitable Content
Virtual Events for Travel Lovers
September 1: Wanderful Women Wednesday: Our Cornerstone Travel Chat!
Free for all Wanderful members, open to the public
Sisterhood, snacks, and socializing: Welcome to Wanderful Women Wednesdays!
Wanderful Women Wednesday is our signature monthly event, connecting our travel-loving community together in cities around the world. We'll host themed conversations over our shared love of travel and gain forever friendships in the process.
Each event will be hosted by a different director of one of our 50+ amazing Wanderful chapters who will pick a monthly conversation theme and ask questions so we can share our favorite travel stories.
This event is great for:
Anyone who loves to travel
Travel creators + small business owners
Members of the travel industry
And more!
Free for Wanderful Members!
Are you a member of Wanderful? All members get *free* access to this event and events in Wanderful chapters around the world, plus an exclusive online member community, monthly webinars, and learning tools, and so much more. To learn more about being a member, click here.
Our prize this month: We're excited to offer a super fashionable DELSEY PICPUS messenger bag to one lucky winner at this month's Wanderful Women Wednesday! Make sure you're there live when we do the drawing!
This month's hostess + theme: Join long-time Wanderful member, Christine Lozada, as she leads this conversation so we can share our favorite travel stories together.
How to participate: Bring a snack, beverage of your choice, and find a comfortable, relaxing spot. Turn your video on (or leave it off if you feel more comfortable that way). We welcome all Wanderful members for a fun time together!
Register to attend
MEMBERS: RSVP FOR FREE
September 11: Conscious Traveler Reading Club: Sustainable Travel: The essential guide to positive impact adventures
Wanderful members only
Wanderful's Conscious Traveler reading club is a community-led reading and discussion circle for our Wanderful members to be better informed and educated on how to be a better traveler.
Each month we read and discuss a fiction or non-fiction book or reading centered around any number of topics that make us more conscious travelers, including: ethical travel, social impact, anti-racism, racial justice, and the experiences and worldviews of other marginalized communities.
Each session has a volunteer facilitator guide the discussion. You will be responsible for acquiring the book or article yourself and reading it in advance of the meeting.
Who this is for: This group is intended for anyone working to be better informed and educated on critical issues around being a better traveler. You can expect a safe space with open and honest conversation among women who want to learn and improve. Our meetings will never be recorded in order to respect privacy.
September reading: We'll be reading is Sustainable Travel: The essential guide to positive impact adventures by Holly Tuppen.
MEMBERS: RSVP TO JOIN
September 13: September Mindfulness Masterclass: Maintaining Balance in a Post-COVID Environment (Part 2)
Wanderful members only
The resurgence of travel can be an exciting and challenging time for many of us as we recalibrate our routines to meet the expectations of ourselves, our loved ones, and our clients. This session will explore the meaning of balance, and how to create boundaries that provide us with the space to incorporate and maintain the balance that we strive to attain.
About your facilitator: Sophia Hyder Hock is the Founder and CEO of Papilia, a company committed to improving diversity, equity, and inclusion (DEI) practices for destinations, travel organizations, and content creators. She integrates human-centered design methodologies to empower her clients to be sustainable thinkers and travelers through a greater understanding of diverse perspectives, mindful leadership principles, and communication styles.
As an international yoga instructor and yoga life coach, Sophia incorporates wellness ideologies into all her projects as a holistic way to inspire people to be their best self through life's many challenges. Her love for travel started at the age of 10 when she moved from California to Sri Lanka. Since then, Sophia has been to 35+ countries and plans to inspire her toddler to be a citizen of the world through mindful travel and learning about his Bengali-American heritage. Learn about Sophia and her mindfulness services, follow her journey on Instagram, and learn about her 14-day virtual self-care retreat.
What she can offer: Sophia's ultimate goal is to motivate you to thrive in anything you do through mindful intention and awareness. On a personal level, Sophia can help you find your inner calm; a space to make decisions that help you feel empowered. On a professional level, Sophia can provide guidance on how to develop meaningful partnerships and how to integrate diverse and inclusive content into your writing style. Sophia will also use a diverse and inclusive lens to review and offer feedback on written content in special review sessions.
MEMBERS: RSVP HERE
Virtual Events for Travel Content Creators
September 16: Influencer Marketing Like a Boss: Creating Communities You Love in More Ways Than One!
For Wanderful Creator Members Only
In this 3-part event series, Katrina Julia will share her behind-the-scenes insights into:
Influencer marketing like a boss
Creating and growing campaigns
The importance of and how to use key metrics
Each part of this three-part series will be engaging, hands-on, and incorporate audience input. We encourage you to still join us even if you miss any of the other parts in the series!
About the presenter: Katrina is a multi-passionate entrepreneur, athlete, traveler, lifestyle brand and content creator, retreat host, CEO, and community builder who can share perspectives as a traveler, creator, and brand.
Katrina is creating a life and business she loves and is transforming her own health, wealth, and business along the way while helping others #CREATEIT.
She has traveled to 27+ countries, led retreats in Cuba, Costa Rica, and more, created online courses, and has worked with brands like WeWork and Airbnb. In her work connecting with influencers, she has generated 3000%+ ROI and helped 15,000+ create a life and business they love.
CREATOR MEMBERS ONLY: RSVP IN THE PORTAL
September 23: Accountability Circle: Creating Equitable Content
Wanderful Creator Members Only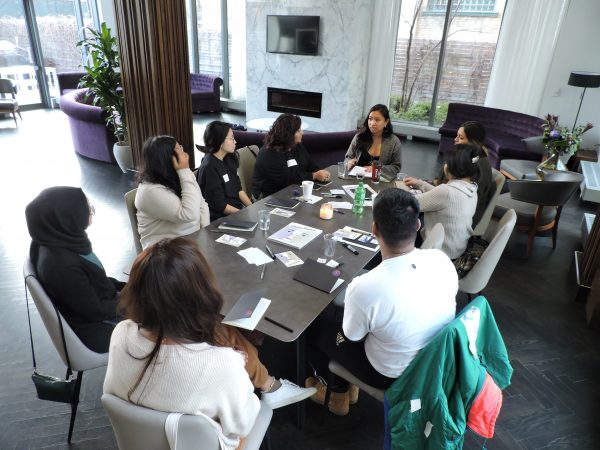 As travel creators, we all have a role and responsibility to create content that is inclusive and equitable for all intersections of identity.
Don't know what that means or where to start on this journey? Join our Creator Expert and Diversity, Equity & Inclusion Strategist, Justine Abigail Yu (she/her), for our monthly mastermind circle unpacking our Anti-Oppression Toolkit and the many elements of creating inclusive and equitable content.
Our mastermind circles are intimate groups of members of the Wanderful Creator Collective that convene to share tips, ask questions, and offer support to one another in a judgment-free zone each month.
Connect with Justine to level up your marketing collateral and ensure that what you're putting out there is ethical, diverse, and simply more compelling.
About your facilitator: Justine Abigail Yu (she/her) is the Communications Director at Wanderful, as well as the Senior Advisor for RISE Travel Institute. She is the Founder and Editor-in-Chief of Living Hyphen, a community and multimedia platform that explores the experiences of living in between cultures as a hyphenated Canadian – that is, an individual who calls Canada home but who has roots elsewhere.
Her work has been featured on national and local media outlets including Yahoo! News, NextShark, CTV National News, and the CBC. Justine Abigail is a fierce advocate for equity and anti-oppression.